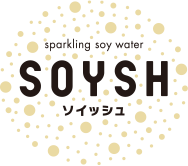 SOYSH
SOYSH is a completely new soy beverage that is surprisingly easy to drink. Although it still contains all the nutrition of whole soybeans, including okara (as known as soybean fiber) that is discarded when making soy milk, SOYSH has none of the distinctive aftertaste of soymilk, and offers a refreshing carbonated taste. Moreover, it has only 51 calories per bottle even though it contains at least 7% soybean solids
Product Line-up
You can find detailed product information below.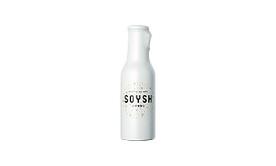 SOYSH
SOYSH is made from whole soybeans, not including the thin peel. With a refreshing carbonated taste, there is none of the distinctive soymilk aftertaste. The taste is refreshing even for those not fond of soybeans. One 100 milliliter bottle is the perfect amount for a daily dose of soy.
Ingredients
Soybeans (Japan-processed, non-genetically-modified), polydextrose, sugar/potassium hydroxide, fragrance, sweetener (stevia), antioxidants (vitamin E)
Nutrition Facts
Per bottle (100ml)
Energy:51kcal, protein:3.2g, fat:1.9g, cholesterol:0mg, carbohydrates:8.3g (sugars:4.8g, dietary fiber:3.5g), sodium chloride (salt) equivalent:0.34g, potassium:550mg,
All products mentioned are sold in Japan.