EQUELLE
Support for Women 40 and Over During and After the Midlife Transition
EQUELLE contains equol, supplement made of soybeans fermented in lactic-acid bacteria. For women, the 40s onward tend to be a time of change, and EQUELLE helps keep women healthy and beautiful during this transition.
EQUELLE – an evolved form of soy isoflavones
Soy isoflavones are generally known to bring many health benefits to women. Recent research has focused on equol, produced when daidzein, a component of soy isoflavones, is metabolized by intestinal bacteria. Equol has been found to have a more powerful effect than crude soy isoflavones.
Product Line-up
You can find detailed product information below.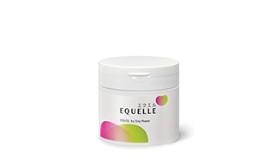 EQUELLE
EQUELLE
Support for Women During and After the Midlife Transition
The midlife transition – the period when women begin to experience various physical changes that accompany aging – is often called "the change of life." Soy-derived equol, the functional ingredient in EQUELLE, helps to offer relief during this period.
No flavorings and preservatives
Equelle (per container)
112 tablets (28-day supply)
Recommended dose: 4 tablets per day
Ingredients
Fermented soy germ, oats fiber, agar, cellulose, hydroxypropyl methylcellulose (HPMC), colorings (titanium oxide, caramel), silicon oxide, talc
Nutrition Facts
Per 4 tablet (2.6g)
Energy: 11.4kcal, protein: 0–1.2g, fat: 0–0.8g, carbohydrates: 1.5g, sodium chloride (salt) equivalent: 0-0.02g, S-equol: 10mg, Soy isoflavones (aglycone): 6.4mg
All products mentioned are sold in Japan.
Caution:
Avoid excessive intake, and do not exceed recommended daily intake. (Be sure to check total intake of the S-equol and soy isoflavones in this product and any consumed from other sources; avoid excessive intake caused by the concurrent consumption of this product with other types of "Food for Specified Health Use" or other products containing isoflavones.)
This supplement is not for consumption by women who are pregnant or nursing, infants or small children.
Those on medication or being treated for illness should consult with a doctor before taking this supplement.
Those with food allergies are advised to check the ingredients before consuming this product.
This supplement may cause certain individuals to feel unwell depending on their constitution and/or physical condition. In such cases, stop using the supplement immediately.
Over time, this supplement may change color slightly. This does not indicate a problem with product quality.