Otsuka Pharmaceutical Co., Ltd.
Pharmaceuticals
July 2, 2021
Otsuka Pharmaceutical and Shanghai Rightongene Announce
Collaboration to Commercialize WT1 mRNA Assay Kit in China
Otsuka Pharmaceutical Co., Ltd. (Otsuka) and Shanghai Rightongene Biotechnology Co., Ltd. (Rightongene) announce that they have entered into an agreement granting Rightongene exclusive sales rights in China for Otsuka's Wilms'tumor-1 gene (WT1) mRNA RT-PCR Assay Kit.
The kit was recently approved by the National Medical Products Administration (NMPA) of China as an imported medical device.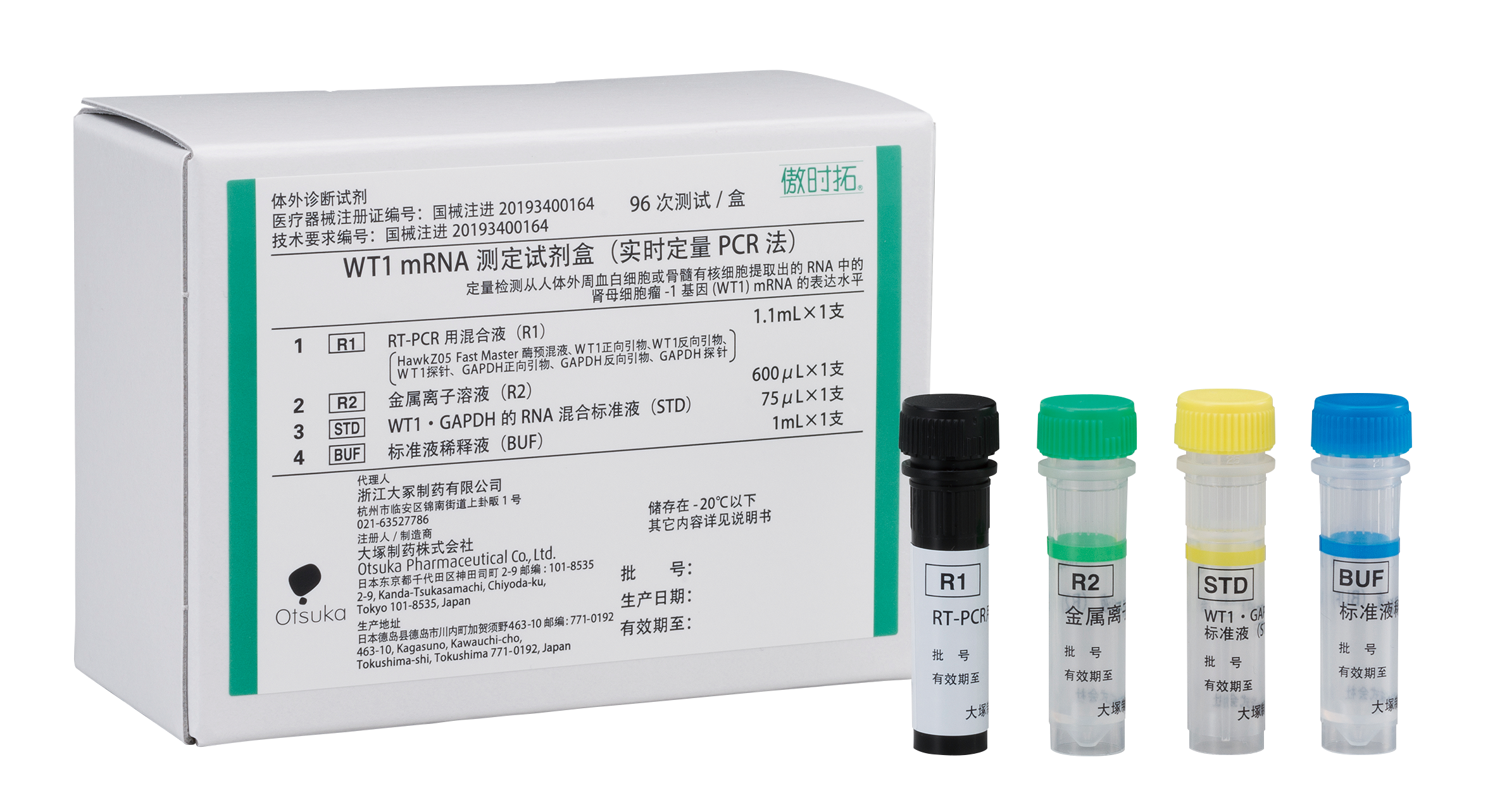 Traditionally, the prognosis of myelodysplastic syndrome (MDS), a type of leukemia, has been evaluated by morphological examination and chromosomal examination. Using the WT1 mRNA test will enable a more precise prognosis prediction than conventional methods. To meet the clinical needs in China, Otsuka compiled results in the clinical trial from more than 1,000 cases, which was required by the NMPA. Following regulatory review, the product has been approved in China as the first in-vitro diagnostic reagent for WT1 mRNA measurement. Rightongene, which has numerous achievements such as obtaining the first approval of a genetic test drug for leukemia in China, will be the exclusive distributor of the product and will begin releasing it to core hospitals in China from July.
This product was approved in Japan for acute myeloid leukemia (AML) in 2006 and launched in 2007. Currently, MDS and acute lymphoblastic leukemia (ALL) are also approved as targeted diseases for the kit, and it is the top and only branded genetic diagnostic reagent in the field of hematology in Japan.
About Otsuka
Otsuka Pharmaceutical pursues development of new diagnostic and treatment options for leukemia. In the diagnostic field, we provide WT1 and BCR-ABL kits and are working closely with Japanese academic institutions to develop oncogenic panel tests for hematopoietic tumors.
In addition, for leukemia treatment, Otsuka also provide ICLUSIG® Tablets 15 mg in Japan and elsewhere in Asia including China. Gong forward, we aim to research and develop new products in the field of hematological malignancies to provide a series of services from diagnosis to treatment and to contribute to the health of people across the world.
National Cancer Center Japan (Tokyo), Kyushu University (Fukuoka), Kyoto Univerisity (Kyoto), Nagoya Medical Center (Aichi)  https://www.otsuka.co.jp/company/newsreleases/2020/20200326_2.html
Latest Pharmaceutical Business related News Releases