Innovation & Science

Original Research & Development
Pharmaceutical business R&D

Discovering and developing
innovative drugs that contribute to
the health of patients
Otsuka researchers possess the burning passion that is essential for turning innovative ideas into healthcare solutions. They do this with an equally important clarity of purpose: to discover and develop innovative drugs that contribute to the health of patients. Our researchers work collaboratively in open-floor spaces that help enhance progress towards realizing ideas, but the seeds of those ideas are often found in an individual researcher's way of thinking about a medical challenge. New compounds discovered at research institutes in Tokushima, Japan are advanced to our clinical development institutes centered in Japan, the US, Europe and other Asian counties. In addition, we selectively partner with companies to accelerate our world-class R&D program.
Research principles
Embrace the challenge of continuously creating highly original pharmaceuticals which put patients first
Nurture unique pharmaceutical projects through Otsuka's global satellite R&D network
Leverage global research resources via our institutes in Japan, the US, China and the UK
Discover new pharmaceuticals related to the central nervous system, in oncology, and in other areas where medical needs remain underserved
We are committed to these research principles, and will continue to take on the challenge of developing unconventional solutions.
About our pharmaceutical business
Nutraceuticals business R&D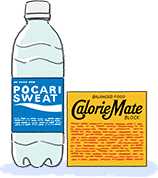 Developing products to maintain and improve peoples' health around the world
Development of nutraceutical*1 business products begins with a scientific evaluation of the potential health benefits of the potential new product. Making the most of our expertise in pharmaceutical research, we strive to create new value without regard to existing trends or popular taste. Otsuka Pharmaceutical's unique approach revolves around two essential R&D principles: choosing untrodden paths instead of those taken by others to create value available nowhere else, and development of products that have a global appeal. Otsuka has repeatedly developed highly original products that have been ahead of their time, each one creating a market that did not exist before. Since 1990, Otsuka has being pursuing the research and development of Cosmedics*2, designed for healthier skin, resulting in the InnerSignal and UL・OS product lines. Based on our Soylution*3 concept, which seeks to bring the full potential of soy to the world, the company's two research institutes in Tokushima have been focused on developing innovative soy food products that appeal to people worldwide.
The development of these products is carried out both at Otsuka's own research institutes, as well as at external institutes with which we collaborate to uncover additional scientific evidence, and maximize the health-improving value of our products.
*1

Nutraceuticals:

nutrition + pharmaceuticals

*2

Cosmedics:

cosmetics + medicine

*3

Soylution:

Soy + solution
About our nutraceutical business