Otsuka Pharmaceutical Co., Ltd.
Pharmaceuticals
November 16, 2022
Otsuka Announces the Launch in Japan of Auto-Injector Dosage Form for AJOVY® Subcutaneous Injection 225mg for Preventive Treatment of Migraine
Otsuka Pharmaceutical Co., Ltd. (Otsuka) announces that an additional dosage form, auto-injector, for AJOVY® Subcutaneous Injection 225mg (generic name is fremanezumab) is scheduled for launch on November 21, 2022 in Japan. The new product has been listed on the National Health Insurance (NHI) reimbursement price list as of November 16, 2022.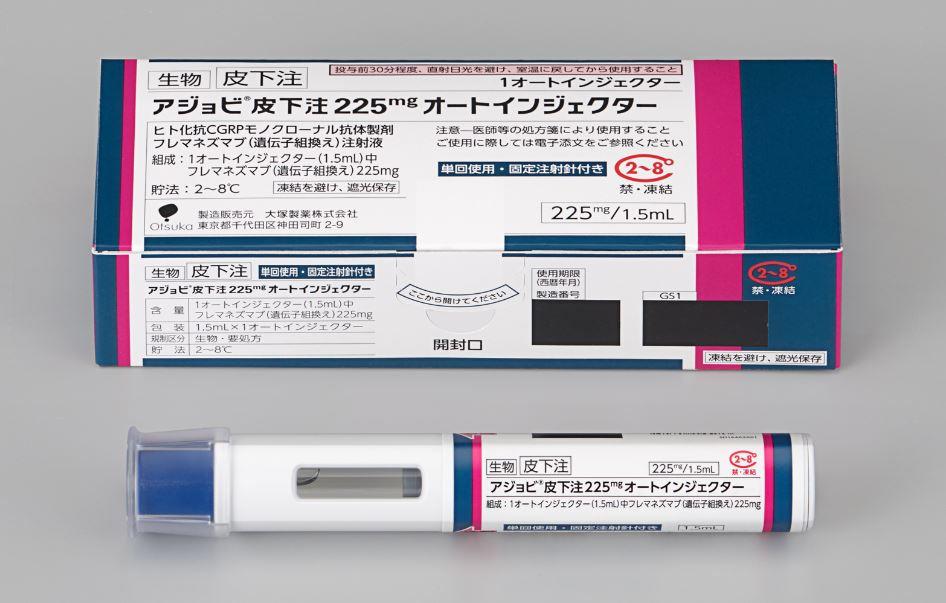 The newly added auto-injector formulation is an eligible drug for home self-injection when administered once every four weeks, allowing patients to self-inject at home if their physician deems it appropriate. The addition of this drug as a new treatment option is expected to reduce the burden of patient hospital visits and improve the convenience of administration.
AJOVY is a subcutaneous injection of the anti-CGRP (calcitonin gene-related peptide) monoclonal antibody, which is produced by recombinant DNA technology. CGRP is thought to play an important role in migraine attacks. AJOVY targets the CGRP ligand, inhibiting its binding to the CGRP receptor. AJOVY can be administered in two dosing options, either 225mg once every four weeks or 675mg once every 12 weeks. The latter dosing option is a unique feature of this drug in its drug class. AJOVY is an asset of Teva Pharmaceutical Industries Ltd. Otsuka entered into an exclusive license agreement with Teva for development and sales in Japan.
Latest Pharmaceutical Business related News Releases