January 29, 2009
Otsuka Pharmaceutical Co., Ltd.
UL・OS Line of Men's Skincare Launches
Sunscreen Formulated with Moisturizing Ingredient AMP
Initial launch in Kyushu and Okinawa, February 9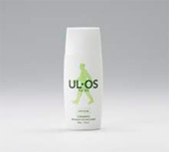 Tokyo, Japan, January 29, 2009 -- Otsuka Pharmaceutical Co., Ltd. (Head Office: Tokyo, Japan; President and Representative Director: Taro Iwamoto; hereafter, Otsuka Pharmaceutical) has announced the launch of a new moisturizing sunscreen, the latest addition to the UL・OS line of men's skin care for face and body, based on the Cosmedics* concept of healthy skin. New UL・OS Sunscreen will initially be launched in Kyushu and Okinawa on February 9, and will available at drugstores throughout Japan from March 19.
*

Cosmedics : Skin care products targeting healthy skin based on Otsuka Pharmaceutical's innovative principle of Cosmetics + Medicine
The aging of the skin is largely related to advancing human age and damage from exposure to ultraviolet radiation. Therefore, as well as the protection from the UV exposure, skin care especially protecting it from drying, during and after exposure to the sun, is vital. In addition to protection from the photo-aging effects of UV exposure, new UL・OS Sunscreen is formulated with moisturizing ingredient AMP (adenosine phosphate), which balances the hydric environment of skin dried by the sun and promotes a smooth and healthy complexion.
With a rating of SPF 25 PA++**, sufficient for daily activities such as golf and driving, UL・OS Sunscreen offers ample sun protection, with no white residue or sticky feel. Conceived for convenience, it can be washed away with water, requiring no special cleansers. Suitable for face and body care, this single product does double duty as sun protection and moisturizing skin care.
**

There are two kinds of ultraviolet, UV-A and UV-B. SPF, Sun Protection Factor, is a laboratory measure of a sunscreen's effectiveness against sunburn caused by exposure to UV-B. PA, Protection Grade of UVA, is a measure of a sunscreen's effectiveness against pigmentation (tanning) caused by exposure to UV-A.
Otsuka Pharmaceutical established the Otsu Laboratory for Skin Care Science in 1990 and continues to pursue research focusing on the health of the skin, a vital organ that accounts for approximately 16% of human body weight.
Launched in September 2008, the UL・OS line of men's skin care products targeting middle-aged men addresses the imbalance of sebum and moisture that affects men's skin as it ages. Based on proprietary Otsuka Pharmaceutical technology, the UL・OS line of Cosmedics aims to restore healthy skin through a simple regimen of skin care.
Based on the corporate philosophy of 'Otsuka - people creating new products for better health worldwide', Otsuka Pharmaceutical Co., Ltd. is dedicated to contributing to the health of people around the world.
Product Features
Skin care products conceived for both face and body care, based on the concept of Cosmedics.
Formulated with moisturizing ingredient AMP (adenosine phosphate), a bio-compound naturally present in human skin. AMP works to balance the complexion's hydric environment, enhancing resilience, glow, and moisture balance and restoring a bright and healthy-looking complexion.
Formulated with nine essential oils; has a fresh herbal mint fragrance with no lingering after-scent.
Light-textured, absorbs rapidly, never greasy. Leaves no white residue or pale sheen.
Washes away cleanly, with no special cleansers required.
SPF25; PA++
Product Overview
| | |
| --- | --- |
| Product name | UL・OS Sunscreen |
| Category | Sunscreen (lotion for face and body) |
| Content | 50 ml |
| Suggested retail price | ¥1,500 (¥1,575 including tax) |
| Efficacy | Prevents discoloration and inflamation caused by exposure to sun and moisturizes. Prevents roughness and maintains healthy skin. Tightens pores, protects against dryness, smoothes and balances complexion, restores elasticity and glow. |
| Instruction for use | Evenly apply an appropriate amount on face, neck, arms, hands, or any area subject to exposure to the sun. |
| Others | Natural fragrance, color-free, contains no mineral oils or parabens (preservatives) |
---
Information in this news release was current as of the original release date.
Latest Nutraceutical Business related News Releases