Otsuka Pharmaceutical Co., Ltd.
Nutraceuticals
June 10, 2013
The No.1 pharmacist-recommended supplement*1
「Nature Made」
The First Supplement Facility was Built in Alabama*2.
Production Capacity Increases 40% by 2014
Pharmavite LLC, that manufactures and sells Nature Made products, built a new dietary supplement factory in Alabama, a Southeastern part of U.S., in addition to a factory in the western part of the U.S. The production capacity will increase 40% by 2014 and can meet continued growth in the future. This is the first dietary supplement facility in Alabama.
harmavite LLC sales has more than doubled in the past ten years and Nature Made is the number one retail national vitamin and supplement brand in the U.S.*3 which led us to build a new facility to make sure we will continue to meet growing demands nationwide.
Our business continuity management program entitled "The Manufacturing and Stable Supply of Products for Medical Related Business" was awarded ISO22031 on August 24, 2012 becoming the first and only pharmaceutical company to be certified in Japan. We plan to enhance the scope of the certification including Nutraceuticals products in order to improve our resiliency and capability to continue operating during unexpected events.
Pharmavite LLC, (Head Office: Northridge, California, U.S., CEO: Doug MacLean) the subsidiary of Otsuka Pharmaceutical Co., Led. (Head Office: Chiyoda-ku, Tokyo, Japan, President: Taro Iwamoto) held a grand opening ceremony for a new dietary supplement factory in Opelika, Alabama, Southeastern part of U.S.
A provider of high quality dietary supplement under rigorous quality management, Pharmavite LLC was founded in 1971. USP*5 used today globally recognized our high quality after doing extensive inspections and testings. The company has created new markets such as vitamin D and Fish Oil, by seeking out the researches which shows the efficiency of supplements, including vitamins. Pharmavite LLC has been a leader in the health and wellness market.
In addition, Pharmavite LLC provides pioneering information related to the dietary supplement which increases brand value. Currently, Nature Made has seven categories that have been recommended by U.S. pharmacists*1.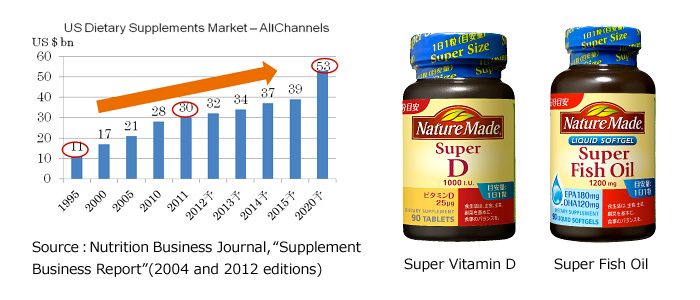 The U.S. dietary supplement market has tripled in the past ten years. Approximately 70% of U.S. adults use dietary supplements at least occasionally*4.
This factory is the first dietary supplement manufacturing facility in Alabama. We will continue to contribute to people's health and well-being by providing information related to supplements as well as to our products.
At the grand opening ceremony, Mr. Doug MacLean, Chief Executive Officer, Pharmavite LLC said, "Pharmavite has been a pioneer in this industry for more than 40 years. Our new facility in Opelika facility will help us continue our leadership role and support our vision of people creating new products for better health worldwide, which is the mission we share with our parent company, Otsuka Pharmaceutical Co., Ltd. We are grateful to everyone who contributed to the successful opening of our Opelika facility, and we look forward to a bright future for this community, our company, and the vitamin and supplement industry as a whole."
"We are excited to officially welcome Pharmavite and announce their facility opening here in Opelika," said Alabama Governor Dr. Robert Bentley. "We have gotten to know the company and its leaders very well over the past several years as we've traveled the road to where we are today - bringing jobs and capital into our great state. We anticipate many more years of strong partnership."
Facility Overview


※1

Nature Made has been selected as the number-one, pharmacist-recommended brand in seven categories. Pharmacy Times, 2012 Edition

※2

Alabama is a state located in southeastern area of the U.S. Its population is approximately 4.8 million and 23rd out of fifty U.S. states. A great deal of Alabama's economic growth from 1990s has been due to the state's expanding automotive manufacturing industry.

※3

Pharmavite calculation based on data reported by Nielsen through its Scantrack Service for the vitamins category for the 52-week period ending 3/16/2013, for the xAOC Market. Copyright (c) 2013, The Nielsen Company.

※4

Nutrition Business Journal, "Supplement Business Report"(2004 and 2012 editions)

※5

USP's verification is recognized public standards of quality for medicines and, more recently, dietary supplements. It is used today in more than 140 countries.
Otsuka Pharmaceutical Co., Ltd. acquired Pharmavite LLC in 1989 and then began selling Nature Made in Japan from 1993. We have gradually expanded the lineup and are currently selling 36 series, 61 items in the Japanese market.
Company Overview
Pharmavite LLC
For more than 40 years, Pharmavite LLC has earned and maintained the trust of healthcare professionals, consumers, and retailers by manufacturing high-quality vitamins, minerals and other dietary supplements, and all-natural foods under our Nature Made®, Voots® Veggie Fruit Tarts and SOYJOY® brand names. Based in Northridge, California, Pharmavite LLC operates as a subsidiary of Otsuka Pharmaceutical Co., Ltd. For more information, please visit http://www.pharmavite.com.

Latest Nutraceutical Business related News Releases