January 20, 2014
Otsuka Pharmaceutical Co., Ltd.
Otsuka Pharmaceutical's POCARI SWEAT to Be
Official Drink for Two Consecutive Asian Games
A partnership agreement has been signed for the Incheon Asian Games (Korea) in September 2014 and the 2019 Hanoi Asian Games (Vietnam). The Asian Games are the largest sports event in Asia.
The population of Asian Games member countries totals approximately 3.8 billion*1, which accounts for about half of the world population. Otsuka Pharmaceutical believes that sports are an important element of health for people in Asian countries, which are growing and changing dynamically, and will supply POCARI SWEAT as the official drink. This ion beverage is sold in 17 countries and regions, mainly in Asia. POCARI SWEAT quickly replenishes fluids and electrolytes lost through perspiration to support athlete conditioning and aid maximum performance. Otsuka Pharmaceutical is currently the sole Japanese partner of the Games. *2
Otsuka Pharmaceutical first expanded overseas 40 years ago, starting with Asia (Thailand in 1973, Taiwan and Indonesia in 1974). The OIAA*3 Division is currently expanding both pharmaceuticals and nutraceuticals*4 businesses in Asian and Arab countries and business scale has grown tenfold in the last decade.
Otsuka Pharmaceutical Co., Ltd. (Head office: Chiyoda-ku, Tokyo; President, Representative Director: Taro Iwamoto) signed a partnership agreement with the Olympic Council of Asia (OCA) for the 2014 Incheon Asian Games (Korea) and the 2019 Hanoi Asian Games (Vietnam) during the General Assembly held in Manila, the Philippines, on January 18. The Asian Games are organized by OCA and are the largest comprehensive sports event in the region of Asia.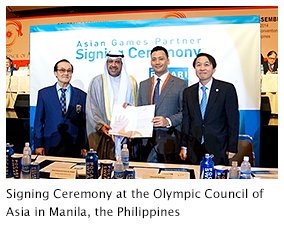 Under this agreement, POCARI SWEAT has been appointed the official drink for two consecutive Games. In addition to supplying the drink during the Games, Otsuka will raise awareness of the importance of fluid and electrolyte replenishment and support the performance and conditioning of top athletes and others who have gathered from all over Asia.
OCA President HE Sheikh Ahmad, as well as representatives of Korea and Vietnam, which will host the Games, and other member countries attended the contract signing ceremony. Sheikh Ahmad commented, "I am deeply pleased that POCARI SWEAT will again be an official drink for the 2014 Incheon Asian Games and 2019 Hanoi Asian Games. We will organize a magnificent event together with the support of POCARI SWEAT."
Otsuka Pharmaceutical Vice President and Representative Director Masayuki Umeno said, "We established joint ventures in Thailand in 1973 and Taiwan and Indonesia in 1974 to start manufacturing and distribution of I.V. solutions overseas. This marked the launch of our overseas expansion. We now horizontally collaborate with partners in different countries in Europe and America, and our innovative products contribute to health in over 80 countries and regions. We feel that promoting sports is an extremely important element of health for people in Asia with its dynamic growth and change. It is an honor to be able to communicate the importance of everyday water and electrolytes replenishment and to aid the health of Asian athletes and staff as well as the many spectators from around the world by supplying POCARI SWEAT to the Asian Games."
About the Asian Games

The Asian Games are the biggest comprehensive sports event in Asia, boasting the world's largest number of events and engaging top athletes from 45 OCA member countries and regions (population of approximately 3.8 billion). Since 1951, games are held approximately once every four years. Otsuka Pharmaceuticals has been an active partner in the past three Games (1998 Bangkok, 2002 Busan, 2006 Doha), setting up a POCARI SWEAT base camp in the athletes' village to support athlete conditioning during exercise and warm-up, particularly through fluid replenishment. We will harness this experience to further enhance activities at the Incheon Asian Games and Hanoi Asian Games, mainly by our local group companies.
About POCARI SWEAT
Official Brand Website (Japanese)

http://www.otsuka.co.jp/poc


To stay healthy, it's crucial to maintain hydration, which accounts for approximately 60% of our bodies. Quickly replenishing fluids and electrolytes (ions) lost through perspiration will aid in maintaining condition and maximizing performance during physical activity. Our company initially developed the ion beverage "POCARI SWEAT" with the concept of a "rehydration beverage." After its 1980 launch in Japan, we have executed heat disorder awareness activities for 22 years based on scientific evidence in collaboration with Japan Sports Association. We also pitch the importance of replenishing fluids and electrolytes not only while exercising, but also in everyday situations where people perspire, such as in the office, while bathing, and while performing labor in hot environments.
POCARI SWEAT is sold in 17 countries and regions, mainly in Asia today, and we work to raise awareness of daily fluid and electrolyte replenishment in ways that are consistent with the culture of each locale. Growth is immense especially in Indonesia, Korea, and China; overseas sales have grown to exceed those of Japan today*5.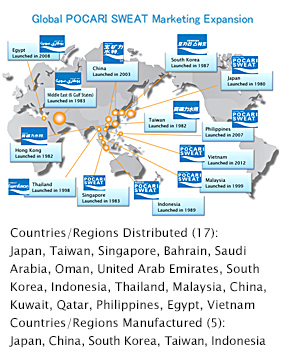 In 1987, sales were launched in South Korea, where the 2014 Games will take place. Many people drink POCARI SWEAT while exercising, and it is widely appreciated as a drink that contributes to health, as indicated by its #1 ranking for four consecutive years from 2009 to 2012 in a national customer satisfaction survey. Our group company Donga Otsuka Co., Ltd. engages in manufacturing and sales in Korea and will lead our support activities at the upcoming Asian Games.
In Vietnam, the host of the 2019 Games, we established Otsuka Thang Nutrition Co., Ltd. in 2012 and launched sales of POCARI SWEAT. Over 60% of the population is age 30 and under in this young growing country, and we are expanding activities to raise awareness of fluid and electrolyte replenishment during everyday life and exercise.
Otsuka Pharmaceutical Asian Rollout
Otsuka Pharmaceutical founded the OIAA Division in 2011 to build a stronger business foundation and expand business from a new perspective by regarding the Asia/Middle East region group companies as one collective entity. Over 30 companies are now covering 15 countries and regions, especially in Asia and the Middle East, expanding our core pharmaceutical and nutraceutical businesses. In the last decade, business scale has grown tenfold.
*1

Total population of the 45 OCA-member countries/regions (source: Ministry of Foreign Affairs of Japan website)

*2

As of January 20, 2014

*3

Otsuka International Asia Arab

*4

Nutraceuticals: nutrition + pharmaceuticals. Products developed with scientific basis to help maintain and promote everyday well-being.

*5

Based on sales volume total of Otsuka Pharmaceutical affiliated companies, overseas surpassed domestic sales in FY2008. (internal data)
---
Information in this news release was current as of the original release date.
Latest Nutraceutical Business related News Releases