February 9, 2018
Otsuka Pharmaceutical Co., Ltd.
Otsuka Pharmaceutical Serves as Official Partner for Tokyo Marathon 2018
- Helping Runners Give Their Best Performance for 12th Consecutive Year -
Otsuka Pharmaceutical will co-sponsor Tokyo Marathon 2018, providing products based on scientific evidence to support runners' total conditioning for Asia's largest city marathon
Information to help runners deliver their best performance will be provided via a special SUPPORT for RUNNERS website and participation in the Tokyo Marathon EXPO
Otsuka Pharmaceutical Co., Ltd. will serve as an Official Partner*1 of Tokyo Marathon 2018, scheduled on Sunday, February 25, 2018. This year marks the 12th consecutive year that Otsuka has supported runners in their efforts to safely complete the marathon's full 42 kilometer distance.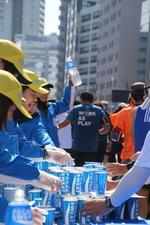 First held in 2007, the Tokyo Marathon is Asia's largest city marathon, with more than 380,000 runners participating over its history. The popular event has contributed to Japan's running boom, coinciding with increased health-consciousness to expand the range of Japanese runners.
Appropriate hydration and nutritional support are recognized as vital for runners to safely complete the 42.195-kilometer course in their best condition. Regular physical conditioning is also important for runners eager to give their best performance on race day.
Otsuka Pharmaceutical will apply the expertise developed through its comprehensive healthcare business to support runners with products and information based on scientific evidence. In addition to contributing Official Beverage POCARI SWEAT, Otsuka will contribute Amino-Value and Calorie Mate products, and disseminate information through a dedicated SUPPORT for RUNNERS website*2 and operation of a booth at Tokyo Marathon EXPO 2018.
Emphasizing the importance of total conditioning before, during, and after athletic pursuits, Otsuka Pharmaceutical will contribute to runners' physical performance with appropriate hydration and electrolytes, nutritional assistance and endurance support, as well as turning out to cheer runners from the sidelines of the course.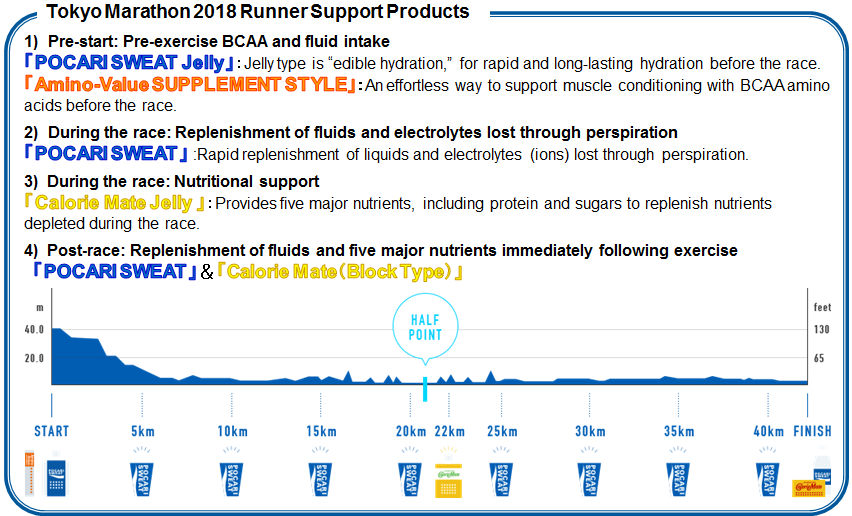 About Tokyo Marathon EXPO 2018
Tokyo Marathon EXPO 2018 official website:
Dates: Thursday, February 22 - Saturday, February 24, 2018
Times: 11 AM to 9 PM on Feb. 22 and 23, 11 AM to 8 PM on Feb. 24
Venue: Tokyo Big Sight
Tokyo Marathon EXPO is Japan's largest running trade show, welcoming more than 100,000 visitors annually, including the 36,000 runners from Japan and around the world who come to register and receive their number cards.
As an official partner, Otsuka Pharmaceutical will operate a booth providing products and information to support runners. Among the attractions of interest to runners, the first 5,000 visitors who complete a questionnaire at the Otsuka booth will receive a sample of conditioning food BODYMAINTÉ Jelly.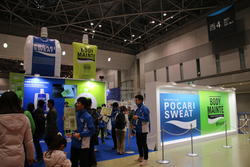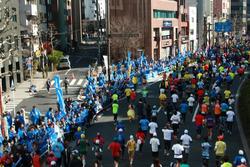 1

Official Partners are divided into Premier Partner, Major Partner, Main Partner, Active Partner and Supporting Partner categories. Otsuka Pharmaceutical is a Major Partner.


Tokyo Marathon Foundation official website:

2

SUPPORT for RUNNERS website (operated by Otsuka Pharmaceutical):
---
Information in this news release was current as of the original release date.
Latest Nutraceutical Business related News Releases