Otsuka Pharmaceutical Co., Ltd.
Corporate
July 27, 2023
Tokushima Prefecture Signs First Resource Circulation Agreement with Otsuka Pharmaceutical
- Promotion of Horizontal PET Bottle Recycling Initiatives -
Otsuka Pharmaceutical Co., Ltd. (Otsuka) finalized a collaborative agreement with Tokushima Prefecture (Governor: Masazumi Gotoda) on July 27, aiming to contribute to realization of a sustainable society through promotion of horizontal "bottle-to-bottle*1" recycling of PET bottles. Working together with 12 participating municipal entities, Tokushima Prefecture aims to develop and promote "bottle-to-bottle" recycling initiatives.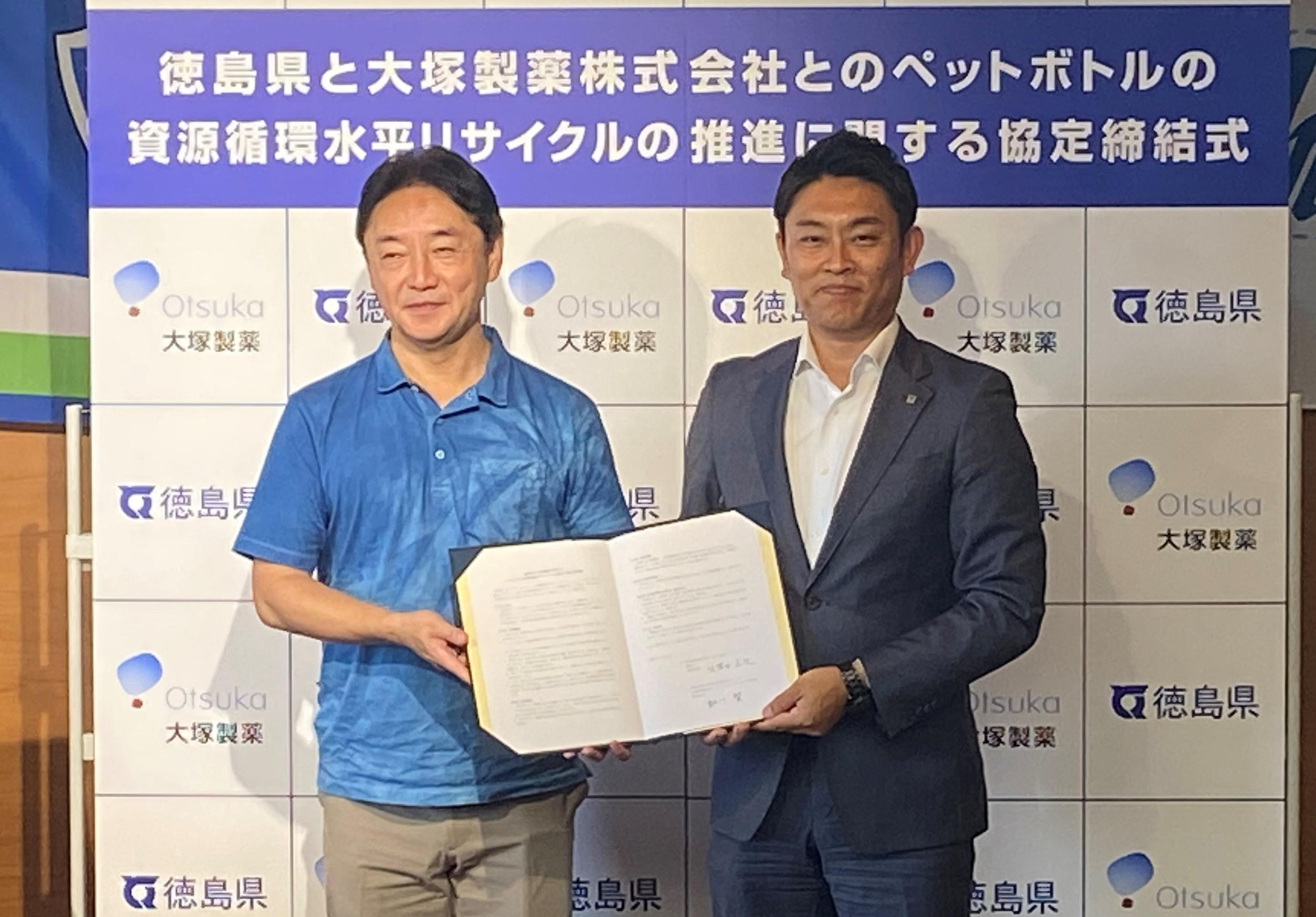 Tokushima Prefecture's First Agreement to Promote PET Bottle Resource Circulation through Horizontal Recycling Initiatives
Cooperative undertakings between Otsuka and local municipal entities, well-received by Tokushima Prefecture, facilitated the new agreement. By broadly promoting stable "bottle-to-bottle" resource circulation (horizontal recycling) of used PET bottles in Tokushima Prefecture, the agreement aims to reduce the volume of waste and promote efficient use of resources, contributing to the realization of a more sustainable society. Initiatives to promote public awareness and participation in resource circulation will include informative bottle-to-bottle posters and videos produced in cooperation with Tokushima Prefecture.
Promotion of Bottle-to-Bottle Initiatives in Cooperation with Municipal Entities in Tokushima Prefecture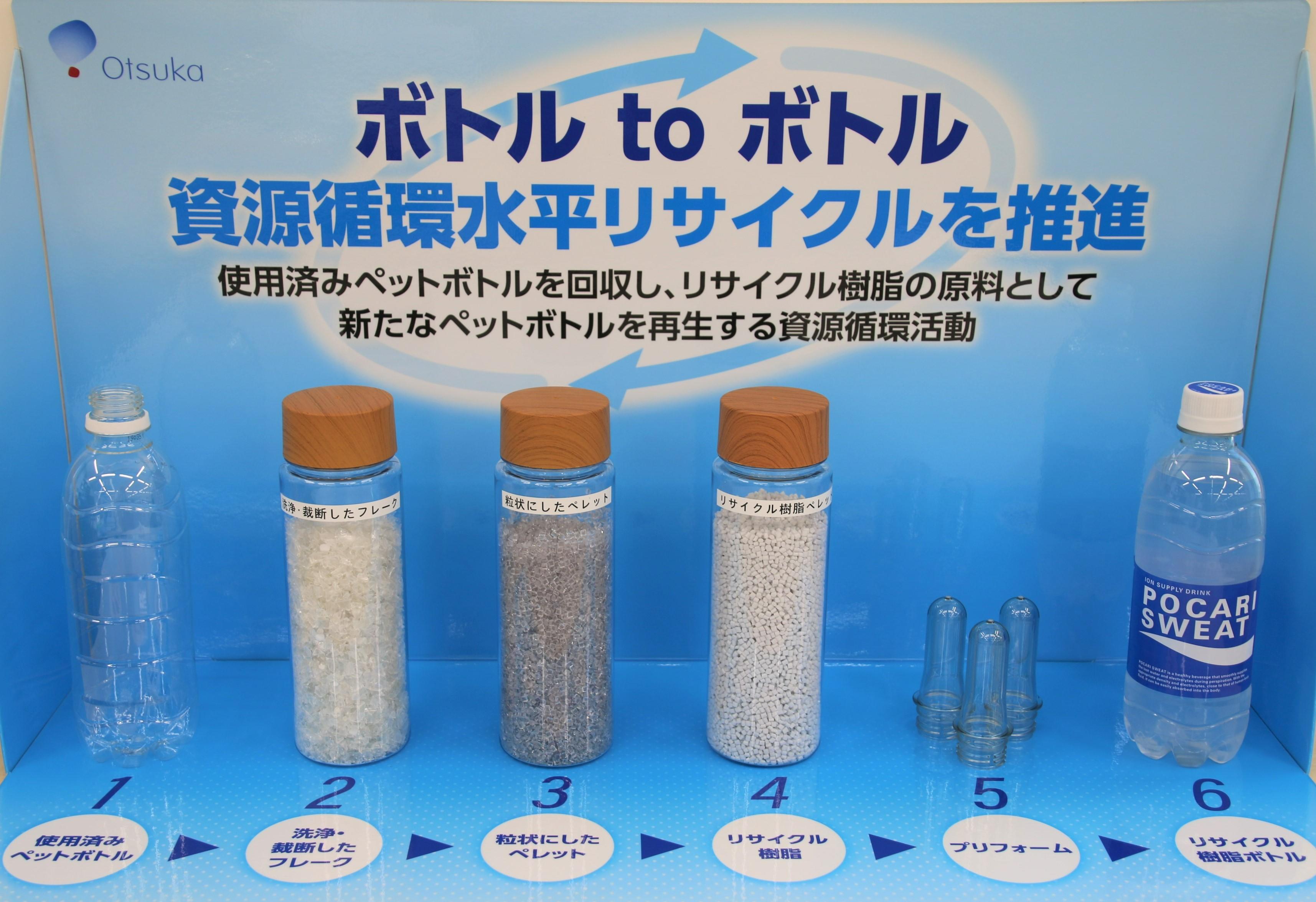 In advance of the agreement with Tokushima Prefecture, Otsuka concluded collaborative agreements for promotion of PET bottle resource circulation with municipal entities representing four cities and seven towns*2 in Tokushima, with the participation of Shikoku Godo Tsuun K.K. (Head office: Tokushima Prefecture; President: Rumi Sato) and Toyota Tsusho Corporation (Head office: Nagoya, Japan; President: Ichiro Kashitani).
Including the cooperative agreement finalized with Naruto City*3 in February 2023, Otsuka is now promoting bottle-to-bottle recycling with 12 local authorities, accounting for half of the municipal entities in Tokushima Prefecture.
Under the new agreement, the municipal entities will collaborate with government and corporate partners to collect used PET bottles, with collected bottles transported by Shikoku Godo Tsuun to Toyota Tsusho recycling facilities. Toyota Tsusho will process recycled bottles into high-quality PET material and Otsuka will use this material in production of PET bottles. The PET material will be used by Otsuka group companies and other beverage manufacturers. Through promotion of resource circulation in Tokushima Prefecture, the birthplace of the Otsuka group of companies, Otsuka aims to contribute to realization of a sustainable recycling society.
Concerned about limiting use of petroleum-based materials and promoting resource circulation, the soft drink industry*5 is working to develop horizontal bottle-to-bottle recycling, in which used PET bottles are reproduced as PET bottles for re-use. In the past, PET bottles discarded by households were recycled as food packaging trays, textiles, and other items, while PET bottles that did not meet the quality requirements for recycling were incinerated.
In recent years, technological innovations have made it possible to create high quality recycled PET resin*6 from used PET bottles, leading to expansion of horizontal bottle-to-bottle recycling initiatives.
With this technology, semi-permanent recycling of PET bottles is becoming a possibility, leading to reductions in consumption of petroleum-based resources and decreased CO2 emissions, which are expected to reduce the overall environmental impact of business activities.
Defining a Circular Economy as one of the material issues to be addressed by environmental policies, the Otsuka group has established the 2050 Environmental Vision, "Net Zero*7. The Otsuka Group Plastic Policy*8 was formulated with the aim of developing packaging suited for a sustainable society. In collaboration with stakeholders, Otsuka group companies are engaged in an extensive range of environmental initiatives.
In addition to "bottle-to-bottle" initiatives, Otsuka is adopting PET bottles made using 30% recycled PET resin, developing lighter packaging, reducing the volume of product packaging materials, offering label-free PET bottles and pursuing other environmentally conscious policies.
Striving to be an essential company that contributes to the health of people and the environment, Otsuka will continue to face challenges with innovation and creativity, aiming to realize a future society in which people and the earth can coexist in harmony.
※1

An ideal circular recycling system in which material from recycled PET bottles is used for production of PET bottles.

※2

Local towns and cities in order of finalization of agreement: Tsurugi, Awa, Kamiita, Itano, Naka, Higashimiyoshi, Miyoshi, Ishii, Kamiyama, Anan, Mima

※3

Otsuka has finalized a collaborative agreement with Naruto City and Toyota Tsusho aiming to contribute to realization of a sustainable society through promotion of horizontal recycling of PET bottles.

※4

Use of sustainable materials 

※5

Reference: Japan Soft Drink Association http://www.j-sda.or.jp/about-jsda/english.php

※6

PET resin produced from collected PET bottles by material recycling processes 

※7

Otsuka Holdings Sustainability, Environment: https://www.otsuka.com/en/csr/environment/

※8

Otsuka Group Plastic Policy:  https://www.otsuka.com/en/csr/environment/plastic.html
Latest Corporate News Releases