July 13, 2009
Otsuka Pharmaceutical Co., Ltd.
Pocari Sweat in 900ml PET Eco-bottles New lightweight eco-bottles achieve 30% reduction in packaging weight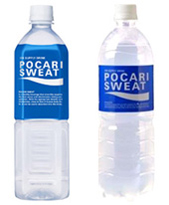 Tokyo Japan--Otsuka Pharmaceutical Co., Ltd. (Head Office: Chiyoda-ku, Tokyo, Japan; President: Taro Iwamoto) has announced the launch of new 900ml PET eco-bottle containers of Pocari Sweat that achieve an approximately 30% (12g)* reduction in packaging raw material weight. Scheduled to be distributed nationwide in Japan from August 2009, the new 900ml eco-bottles will result in an annual reduction of approximately 276 tons** of PET resin, which translates to an approximately 882 tons*** annual reduction in CO2 emissions.
In addition to the reduction in package weight, the new 900ml eco-bottle containers are also more comfortable to hold and easy to flatten for recycling. Compared to previous square-shaped containers, the new bottles are rounded, with a nipped-in 'waist' that makes them easier to hold and carry. The thin, lightweight eco-bottles are reinforced by ribs to maintain the shape and integrity of the bottle.
The 900ml Pocari Sweat eco-bottles were preceded by a 500ml eco-bottle version, launched in June 2007 to coincide with the completion of Japan's first positive pressure sterile bottling facility. This technology forms the basis for a full-line production method in which every step of the process, from the PET resin to the finished bottled beverage, is completed on a single line, making it possible to achieve an approximately 30% reduction in container weight.
*

Previous conventional 900ml PET bottles of Pocari Sweat weigh approx. 41g; new eco-bottles weigh approx. 29g

**

12g reduction in weight x annual production of approximately 23 million bottles

***

Calculation of CO2 reduction: Study on Plastic Waste Treatment and Disposal by a Method of LCA Technique; Plastic Waste Management Institute, March 2001
Otsuka Pharmaceutical aims to subsequently introduce eco-bottle versions of other products as part of ongoing efforts to enhance technology in the interest of ecological manufacturing.
Based on its corporate philosophy of 'Otsuka-people creating new products for better health worldwide', Otsuka Pharmaceutical is dedicated to contributing to the health of people around the world.
Positive Pressure Sterile Bottling Method
Room temperature Pocari Sweat is bottled in a sterile booth. Immediately before the cap is sealed, the container is topped off with nitrogen and subjected to positive pressure. Because the process is carried out at room temperature, the positive pressure sterile bottling method eliminates the need for rigid, bulky containers that can withstand high temperatures, making it possible to use thinner lightweight bottles. These eco-bottles maintain their rigidity until the cap is opened, but after opening, the container becomes pliable, fitting comfortably in the hand. Eco-bottles are also easy to flatten for recycling.

Characteristics of Pocari Sweat 900ml ECOBOTTLES
Achieve an approximately 30% (12g) reduction in raw materials weight (from approx. 41g to 29g)
Achieve an approximately 58% reduction in thickness, with shape and integrity of the bottle maintained by reinforcing ribs
Pinched-waist design makes bottle easy to hold and carry, even for people with small hands
Label is approximately 20% thinner and 1g less in weight
Formerly square shape is rounded, to fit more comfortably in the hand
Product Overview
| | |
| --- | --- |
| Product name | Pocari Sweat 900ml PET bottle |
| Designation | Soft-drink beverage |
| Volume | 900ml |
| Shelf life | 9 months |
| Suggested retail price | ¥200/bottle (tax inclusive) |
Nutritional Content (per 100ml)
| | | | |
| --- | --- | --- | --- |
| Energy | 27kcal | Sodium | 49mg |
| Protein | 0g | Potassium | 20mg |
| Fats | 0g | Calcium | 2mg |
| Carbohydrates | 6.7g | Magnesium | 0.6mg |
---
Information in this news release was current as of the original release date.
Latest Nutraceutical Business related News Releases