August 26, 2009
Otsuka Pharmaceutical Co., Ltd.
New SOYJOY flavored with blueberries and white chocolate chips
SOYJOY Blueberry Debuts September 29, 2009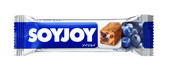 Tokyo, Japan - Otsuka Pharmaceutical Co., Ltd. (Head Office: Chiyoda-ku, Tokyo, Japan; President: Taro Iwamoto) has announced the September 29, 2009 debut of SOYJOY Blueberry, a new addition to the fruit soy bar SOYJOY line
SOYJOY Blueberry is a wheat-free bar-type nutrition product baked from dough made of powdered whole soybeans (hulled soybeans), with the addition of generous amounts of sweet-tart blueberries and white chocolate chips.
Perceived health benefits have contributed to the growing popularity of blueberries among women in particular. SOYJOY Blueberry is a delicious, healthful combination of blueberries and soy, characterized by the intense flavor of plump wild blueberries.
Launched in Japan in April 2006 as a way to promote the benefits of soy, a traditional element of Japanese dietary culture, SOYJOY is currently available in seven countries and regions. A low GI food,* SOYJOY is a delicious and convenient way to enjoy the nutrition of soy in various occasions and has earned a loyal following among a wide segment of the population and health-conscious individuals in particular. With the addition of SOYJOY Blueberry, the SOYJOY range now consists of 11 items, offering a variety of delicious ways to incorporate the benefits of soy in daily life.
*

'GI' stands for 'glycemic index', a measurement of how carbohydrates in foods affect blood sugar levels. A low GI indicates gradual absorption of carbohydrates, which is said to offer benefits for weight control.
In view of factual evidence that soy consumption can be a solution for a variety of health conditions, Otsuka Pharmaceutical is focusing on an ongoing 'Soylution' initiative to encourage an ever-increasing number of people to discover the benefits of soy. SOYJOY is a brand born of this Soylution concept.
Based on its corporate philosophy of 'Otsuka-people creating new products for better health worldwide', Otsuka Pharmaceutical is dedicated to contributing to the health of people around the world.
SOYJOY Blueberry Product Features
Baked from dough made of whole soybeans; provides the nutrition of whole soy.
Popular blueberry flavor
Full of intense flavor of plump wild blueberries
136 calories per bar; a low glycemic index food
Easy to eat bar-type nutrition product
Product Overview
| | |
| --- | --- |
| Product name | SOYJOY Blueberry |
| Designation | Confectionary |
| Ingredients | Whole soybean flour (not genetically modified), raisins, butter, sugar, eggs, coconut, pineapple, maltodextrin, blueberries, high-fructose corn syrup, white chocolate, cranberries, salt, cheese, flavors |
| Content | 1 bar (30g) |
| Suggested retail price | ¥115 (¥121 tax inclusive) |
Nutritional Information (in a single 30-gram bar)
| | | | |
| --- | --- | --- | --- |
| Energy | 136kcal | Dietary fiber | 3.2g |
| Protein | 4.1g | Sodium | 31~69mg |
| Fat | 7.4g | | |
| Carbohydrates | 11.9g | Isoflavins | 14mg |
SOYJOY Website
http://www.otsuka.co.jp/soy/
---
Information in this news release was current as of the original release date.
Latest Nutraceutical Business related News Releases