September 9, 2014
Otsuka Pharmaceutical Co., Ltd.
New SoyCarat Chili Pepper Flavor
Spicy version of healthy, low GI soy snack packs grown-up appeal
New SoyCarat Chili Pepper flavor joins the lineup of healthy whole soy*1 snacks that make an entertaining rattling sound when shaken. Characterized by an enticing spicy aftertaste, the new flavor will be launched on September 29.
Offering all the nutritional benefits of soy, the punchy spicy flavor is perfect for a grown-up evening snack.
SoyCarat is a healthy, low GI food*2, containing the nutrition of approximately 50 whole soybeans in each packet. Because it is baked, not fried, each packet of SoyCarat Chili Pepper is just 125 calories, making it a flavorful yet healthy snack that can be enjoyed casually, any time.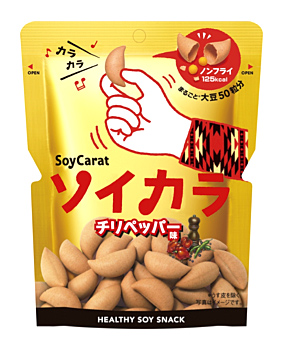 Otsuka Pharmaceutical Co., Ltd. (Head Office: Chiyoda-ku, Tokyo, Japan; President: Taro Iwamoto) has announced a spicy new addition to the SoyCarat line of healthy snacks made with whole soy. New SoyCarat Chili Pepper will be launched throughout Japan on Monday, September 29, 2014.
Driven by increasing awareness of health issues, the market for snack foods made mainly from nutritious ingredients such as beans or vegetables has grown rapidly and is currently valued at almost ¥20,000 million*3. In 2012, Otsuka Pharmaceutical launched SoyCarat as a casual, fun and tasty way of enjoying the nutritional benefits of soybeans such as soy protein and dietary fiber. The fun of SoyCarat is the rattling sound each "bean" makes when shaken. A single pack provides the nutrition of approximately 50 soybeans, and the snack is baked, not fried, keeping calories down to approximately 120 kcal per packet. It's also a low GI food, meaning that its sugars are absorbed more slowly, making it potentially beneficial for weight control. Beginning with the original Cheese flavor, followed by Olive oil & Garlic and Nori & Natto flavors in 2013, SoyCarat has become popular as an evening snack for adults. The new characteristic, "spicy soy" flavor was developed in the quest for flavors to appeal to an adult palate.
Based on the concept of 'Soylution' - that soy can provide solutions to human health and environmental issues -Otsuka Pharmaceutical has been developing new forms of soy products that offer delicious new ways for people around the world to enjoy benefits from whole soy nutrition. Introduced in 2006, SOYJOY- baked soy bar, is now sold in 11 countries and regions around the world. In Japan, SOYJOY Peanuts was introduced in 2013, followed in 2014 by SOYJOY Almond & Chocolate, popular as a between-meal snack for business people, thereby broadening the brand's appeal and the situations in which it is eaten. SOYSH, a sparkling soy beverage released in 2010, and SoyCarat, a healthy soy snack launched in 2012, were both developed with global markets in mind. All items in SOYJOY and SoyCarat are recognized as being low GI foods*4.Otsuka Pharmaceutical, based on the corporate philosophy of 'Otsuka-people creating new products for better health worldwide' will continue to develop innovative products that contribute to the health of people the world over.
*1

Excluding the thin peel

*2

'GI' stands for 'glycemic index', a measurement of how carbohydrates in foods affect blood sugar levels. A low GI indicates gradual absorption of carbohydrates, which is said to offer benefits for weight control.

*3

Food Service Industry Marketing Handbook 2014: Vol. 1 (Fuji Keizai)

*4

As with SOYJOY, all items in the SoyCarat range have been analyzed by The University of Sydney and recognized as low GI foods.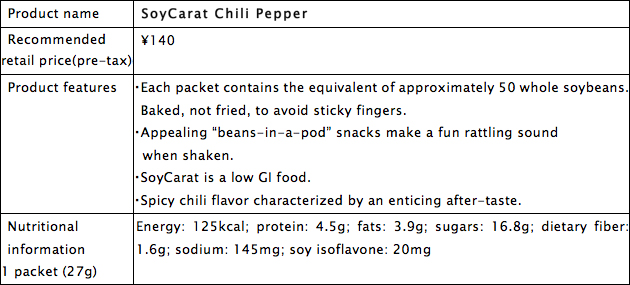 ---
Information in this news release was current as of the original release date.
Latest Nutraceutical Business related News Releases