March 23, 2018
Otsuka Pharmaceutical Co., Ltd.
Introducing EQUELLE Gelée, a Flavorful and Convenient Supplement from the EQUELLE Brand
- Supports women's beauty and health from the inside out -
Formulated with soy-derived equol, collagen, calcium and other ingredients, EQUELLE Gelée will be launched on April 3
Refreshing, orange-flavored jelly-type beverage contains a variety of ingredients to benefit women in a single pouch
Supports the fundamentals of beauty and health from the inside out
Otsuka Pharmaceutical Co., Ltd. has announced the April 3, 2018 nationwide Japan launch of EQUELLE Gelée, a new addition to the EQUELLE brand of dietary supplements that contributes to women's health and beauty.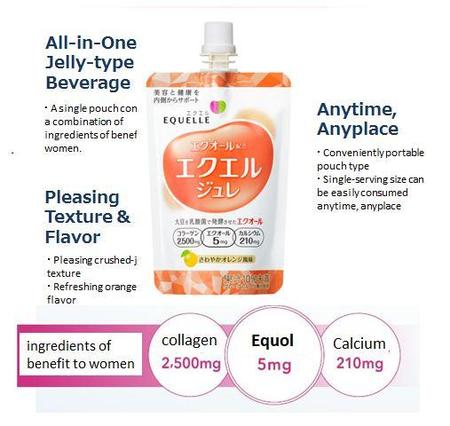 EQUELLE Gelée was developed to support the fundamentals of women's beauty and health. In addition to soy metabolite equol, each pouch of refreshing, orange-flavored EQUELLE Gelée contains collagen, calcium, and other beneficial ingredients to support women's beauty and health from the inside out.
Women are subject to various health- and beauty-related changes at different life stages. In an Otsuka Pharmaceutical survey of attitudes toward health and beauty targeting approximately 1,300 women, a degree of concern and an inclination to adopt countermeasures ranked high for appearance-related issues such as wrinkles and sagging skin, while bone marrow density and other unseen issues related to physical condition ranked low (see graph below). However, internal physical health also plays a vital role in maintaining external beauty, and it is thought that early care is an important element of a beauty and health regimen.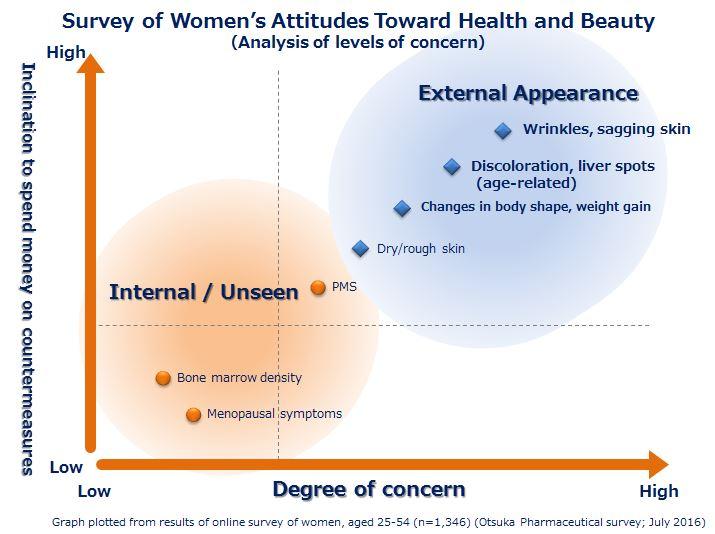 Encouraging women interested in remaining beautiful to recognize the importance of internal care, Otsuka Pharmaceutical has launched new EQUELLE Gelée as a delicious, convenient way to consume soy-derived equol.
A new concept, EQUELLE Gelée goes beyond surface solutions, offering fundamental support for women's beauty and health from the inside out.
About the EQUELLE Brand
Amidst increases in healthy life expectancy and expanded opportunities for participation in society, women are subject to a range of emotional and physical changes at certain life stages. Over many years of research into the benefits of soy, Otsuka Pharmaceutical discovered the close connection between soy metabolite equol and women's health. Following extensive research to confirm safety and efficacy, EQUELLE (tablet form) was launched in 2014 as a supplement containing equol produced by fermenting soy with lactic acid bacterium to support women's health and beauty during life stage transitions.
The launch of new EQUELLE Gelée offers a flavorful, convenient way to consume equol in a wide range of daily scenarios. The growing line of EQUELLE products aims to support women's health and beauty and enhance quality of life.
Ingreadients and Nutrition Facts
Otsuka Pharmaceutical Equol-related Research and Development and Public Awareness Activities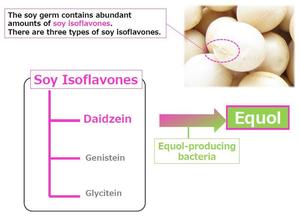 Over many years of soy research, Otsuka Pharmaceutical has focused on the relationship between equol and the emotional and physical changes affecting women during the menopausal transition. Research into equol was initiated at the Saga Nutraceuticals Research Institute in 1996, and in 2002 Lactococcus 20-92, the lactic acid bacterium which produces equol, was successfully isolated. Both the Pharmaceuticals Business Division and the Nutraceuticals Business Division have conducted clinical studies in both Japan and the US using equol produced by fermenting soy germ with this lactic acid bacterium (naturally occurring as S-equol), resulting in numerous reports detailing the health benefits of equol.
---
Information in this news release was current as of the original release date.
Latest Nutraceutical Business related News Releases