【Product Overview】
Product information website: https://www.otsuka.co.jp/en/nutraceutical/products/ulos/
Official UL·OS website in Japanese: https://www.otsuka.co.jp/ulos/
Product name
UL·OS Medicated Scalp Shampoo
UL·OS Medicated Skin Wash

Content
100mL
100mL

Suggested retail price(pre-tax)

JPY 450

JPY 420

Product characteristics

• Formulated with two active ingredients*4, UL·OS Medicated Scalp Shampoo prevents dandruff, itchiness and sweaty odor to maintain a healthy head.

• Silicone-free, it washes cleanly away, leaving no build-up on hair and requiring no conditioner.

• Amino acid cleansing ingredients produce a rich, fine-textured lather that gently cleanses scalp and hair.

• Formulated with two active ingredients*4, UL·OS Medicated Skin Wash cleanses, disinfects and sanitizes, preventing middle-aged oily*5 and perspiration odors.

• Can be used for face and full-body cleansing.

• Generous, long-lasting lather cleanses without burdening the skin.
4

O-cymen-5-ol, 2K glycyrrhizic acid

5

Distinctive body odor often associated with midd-aged men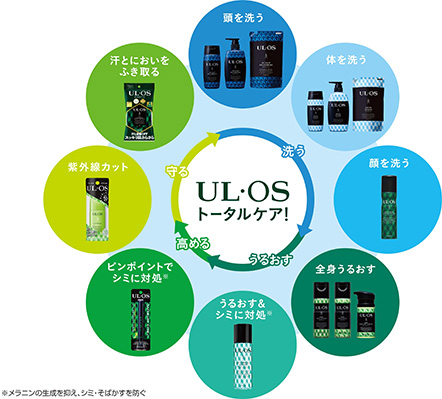 【About UL·OS】
Otsuka Pharmaceutical established the Otsu Skin Care Research Institute in 1990, and for more than 20 years has been engaged in proprietary research focusing on the health of the skin, a vital organ that accounts for approximately 16% of human body weight.
Based on the unique Otsuka Pharmaceutical principle of Cosmedics (Cosmetics + Medicine) targeting healthy skin, UL·OS was launched in 2008 as a men's total body skin care brand, focusing on impurities, dryness and UV exposure as the primary causes of skin damage.
With the launch of these two new items, the UL·OS selection of head-to-toe cleansing, moisturizing, energizing, and protection products offers a range of 16 items in 10 categories .