Otsuka Pharmaceutical Co., Ltd.
Nutraceuticals
March 7, 2023
New SOYJOY Fruits & Cheese
Baked cheesecake-flavored whole-soy nutrition bar with ample fruit
Otsuka Pharmaceutical Co., Ltd. (Otsuka) has announced the March 20, 2023 launch of SOYJOY Fruits & Cheese, a new flavor from the SOYJOY brand of whole-soy nutrition bars.
Dough made from whole soybeans is studded with chunks of refreshing pineapple and apple, highlighting the rich, baked cheesecake flavor of this new sweet addition to the SOYJOY line.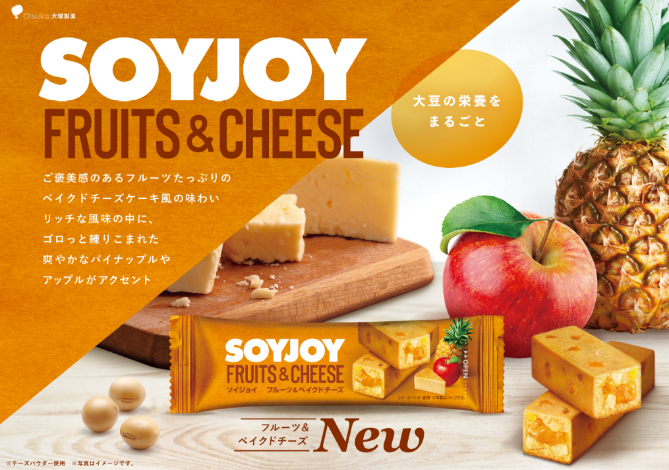 Focusing on soy as a rich source of plant protein and other nutritional elements, Otsuka has been developing new ways to take advantage of the health benefits of soy.
Baked with gluten-free dough made from powdered whole soybeans, SOYJOY incorporates fruits, nuts, and other ingredients, resulting in a selection of items with distinctive textures and flavors. SOYJOY is a low-GI food that offers a convenient way to consume soy protein, dietary fiber, and other nutrients that may be lacking in modern diets. Amidst growing health-consciousness, SOYJOY supports enjoyable and healthful between-meal consumption with the addition of a new flavor.
Based on the corporate philosophy of 'Otsuka - people creating new products for better health worldwide,' Otsuka Pharmaceutical continues to contribute to the health and well being of people around the world.
SOYJOY official brand site (in Japanese)  https://www.otsuka.co.jp/soy/
Product name

SOYJOY Fruits & Cheese

Product characteristics
・A satisfying treat with ample fruit in a baked cheesecake-flavored bar
・Rich flavor highlighted by chunks of pineapple and apple
・Made of whole soybeans, SOYJOY is rich in dietary fiber, low GI, and gluten-free
Nutrition (per 30g bar)
Energy: 145kcal, protein: 4.7g, fat: 8.2g (saturated fatty acids: 2.8g, trans fatty acids: 0g), cholesterol: 5-11mg, carbohydrates: 13.8g (sugars: 11.8g, dietary fiber: 2.0g), sodium chloride (salt) equivalent: 0.13-0.30g
Soy isoflavones: 22mg
Ingredients
Soy flour (Japan-processed), margarine, sugar, processed pineapple, processed apple, eggs, cheese powder, processed lemon peel, salt/modified starch, fragrance
Suggested retail price
¥125 (pre-tax)
Shelf-life
13 months
Launched in 2006, SOYJOY nutrition bars offer a delicious, convenient way to consume protein, soy isoflavones and other nutritional benefits of soy. A low-GI food containing approximately 35 whole soybeans in each bar, the selection of flavorful SOYJOY nutrition bars is expanding. The current product lineup consists of the SOYJOY and SOYJOY Plant-Based series.

'GI' stands for 'glycemic index,' a measurement of how carbohydrates and sugars in foods affect blood sugar levels. A low GI indicates gradual absorption of carbohydrates. Foods with a glycemic index of 55 or less are considered low GI. All SOYJOY products are recognized as low GI foods.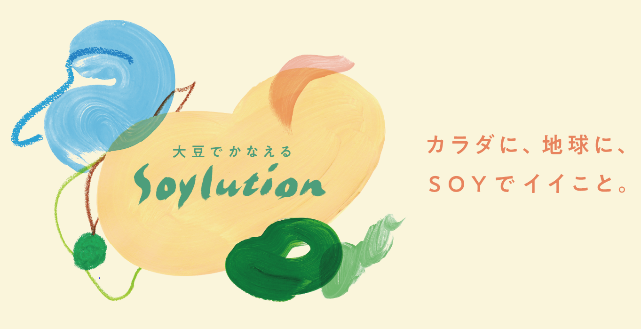 Focusing on health benefits and the potential for reduction of environmental impact, Otsuka Pharmaceutical has developed a range of innovative soy products based on the concept of "Soylution" (Soy + solution), aiming to contribute to better lives for people from diverse cultures around the world.
Latest Nutraceutical Business related News Releases