About Otsuka
Timeline of Otsuka's History
1994~2003
Corp

Corporate

Ph

Pharmaceutical business

NC

Nutraceutical business
Corp
Fukuroi Factory completed
Otsuka Beverage established the factory and transferred it to Otsuka Pharmaceutical in 2008. It produces mainly POCARI SWEAT.
NC
Taiwan Otsuka Beverage Co., Ltd. (now King Car Otsuka Co., Ltd.) established in Taiwan
NC
Otsuka Pharmaceutical (H.K.) Ltd. established in Hong Kong
P.T. Kapal Indah Otsuka (now P.T. Amerta Indah Otsuka) established in Indonesia
Corp
Otsuka Museum of Art established in Tokushima
The world's first museum featuring art replicas on ceramic panels
The Otsuka Museum of Art houses more than 1,000 exquisitely crafted replicas of masterpieces of Western art from more than 190 museums in 25 countries. Rendered with special technology developed by Otsuka Ohmi Ceramics Co., Ltd., the replicas are the same size as the originals.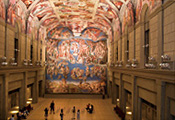 Ph
Otsuka Pharmaceutical Europe Ltd. (OPEL) established in U.K.
The beginning of the growth era in Otsuka's European business
Corp
Tokushima Itano Factory completed
The Tokushima Itano Factory began as a pharmaceuticals production site and currently also produces nutraceutical products.
Ph
Global alliance on ABILIFY with Bristol-Myers Squibb Company
A co-development and co-marketing contract was signed with Bristol-Myers Squibb Company for the antipsychotic ABILIFY (aripiprazole) globally.
Corp
Tatsuo Higuchi appointed president of Otsuka Pharmaceutical Co. Ltd.
Ph
UBIT launched
Diagnostic agent for H. pylori infection
Corp
Otsuka International Asia Arab (OIAA) Division established
The OIAA Division was established to build a strong and integrated business foundation for group companies in these regions, with a new perspective and accelerated decision-making.
Corp
EN Otsuka Pharmaceutical Co., Ltd. Established
EN Otsuka Pharmaceutical supports activities related to medical care and health through enteral nutrition.
Ph
ABILIFY launched in U.S.
Antipsychotic drug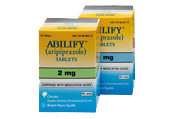 NC
Tianjin Otsuka Beverage Co., Ltd. established in China
Corp
Otsuka Welfare Clinic established in Pakistan
The clinic provides free medical care and treats a variety of illnesses for Afghan refugees. Otsuka Pharmaceutical and other Otsuka Group companies jointly set up the clinic.
Ph
Otsuka (China) Investment Co., Ltd., (OCI) and Otsuka Beijing Research Institute (OBRI) established
NC
50th anniversary of Oronine H Ointment