About Otsuka
Timeline of Otsuka's History
2004~2013
Corp

Corporate

Ph

Pharmaceutical business

NC

Nutraceutical business
Corp
Tokushima Vortis, a professional soccer team, launched
With the aim of revitalizing the region, Tokushima Vortis was established with the support of local residents, government bodies, and companies. Otsuka Pharmaceutical and other Otsuka Group companies sponsor the team.
NC
InnerSignal launched
Full-scale entry into the Cosmedics* business.
Cosmedics: cosmetics + medicine
Kenja-no-shokutaku (Wise Man's Dining, currently sold as Kenja-no-shokutaku Double Support) launched
Xuzhou VV Food & Beverage (now VV Food & Beverage Co., Ltd.) joined group
Ph
ABILIFY launched in Japan
Antipsychotic drug

NC
SOYJOY launched in Japan
First product from the Soylution* concept
Soylution = Soy + solution

Corp
Otsuka Group's corporate symbol created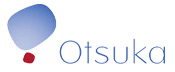 Ph
Otsuka Pharmaceutical Development & Commercialization Inc. (OPDC) established in U.S.
OPDC oversees the clinical development strategy and planning, as well as marketing planning, of Otsuka's pharmaceutical business in many Western countries.
Corp
Taro Iwamoto appointed president of Otsuka Pharmaceutical Co., Ltd.
Otsuka Holdings Co., Ltd. established
Ph
Alliance with Belgium-based UCB
Otsuka Pharmaceutical and UCB entered an agreement for co-development and co-promotion of pharmaceuticals in Japan including the anti-epileptic drug Keppra.
Acquisition of worldwide rights to Busulfex
Busulfex is the only conditioning agent approved by the US FDA for use prior to allogeneic hematopoietic progenitor cell transplantation.
NC
France-based ALMA stake acquired
A major mineral water company in Europe
UL・OS launched
Otsuka's second cosmedics brand (following the launch of InnerSignal three years earlier)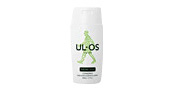 Ph
Samsca launched in the U.S
Oral vasopressin V2-receptor antagonist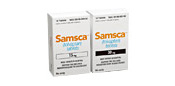 NC
France-based Nutrition et Santé joined group
Leading company in the functional and nutritional food markets of Europe
Corp
Otsuka Holdings listed on the First Section of Tokyo Stock Exchange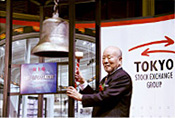 NC
SOYSH launched
Carbonated soy beverage
Gerblé introduced to Japan from Nutrition et Santé in France
Corp
BeanStalk Kids Center TOKUSHIMA opened
Opened as Otsuka Pharmaceutical's first in-house child care center in Tokushima
Heartful Kawauchi Co., Ltd. established as a special subsidiary of Otsuka Pharmaceutical
Heartful Kawauchi Co., Ltd. was established in Japan with the purpose to provide opportunities for people with physical and/or mental disabilities. It seeks to provide them with meaningful work in order to live equally with the rest of society and to work free from discrimination.
Ph
Global alliance with H. Lundbeck A/S in Central Nervous System (CNS) diseases
Otsuka S.A. established in Switzerland
Ph
Agreement signed with US-based Proteus Digital Health, Inc.
Otsuka entered into an agreement to develop new pharmaceuticals that use sensor technology.
Mucosta ophthalmic suspension launched
Treatment for dry eye
NC
Otsuka Thang Nutrition established in Vietnam
SoyCarat launched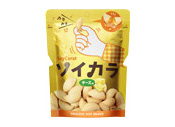 Ph
Abilify Maintena launched in the U.S.
Antipsychotic drug
Neupro patch introduced
Dopaminergic antiparkinsonian drug
Drug for restless legs syndrome
Astex Pharmaceuticals joined group
Otsuka Europe Development and Commercialisation Ltd. established in the U.K.
NC
POCARI SWEAT ION WATER launched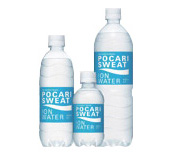 OMUGI SEIKATSU (Barley Life) launched