Otsuka Pharmaceutical Co., Ltd.
Nutraceuticals
July 21, 2021
U.S. Supplement Brand Nature Made Marks 50th Anniversary/Named #1 Pharmacist Recommended Vitamin and Supplement for 24 Years
Nature Made®, the supplement brand marketed by Otsuka Pharmaceutical Co., Ltd. (Head office: Tokyo, Japan; President: Makoto Inoue) is marking its 50th anniversary. Nature Made has also been ranked the No. 1 pharmacist recommended vitamin and supplement*1 in the US for 24 consecutive years.

Launched in 1971 by Pharmavite LLC, a California-based corporation engaged in supplement-specific research and development, Nature Made is the No. 1 supplement brand*2 sold in U.S. stores.
Pharmavite became a member of the Otsuka group of companies in 1989. Sales of Nature Made in Japan were launched in 1993, and the brand has continued to grow by offering a range of high quality products designed and manufactured for Japanese consumers. As a pioneer, Nature Made leads the Japanese supplement market, ranking No. 1 for in-store sales of Multivitamin and Mineral and Vitamin D supplements*3.
Marking its 50th anniversary in 2021, Nature Made continues to be recognized for its quality and dedication to health and wellness. For 24 years beginning in 1997, a U.S. News & World Report survey conducted in collaboration with specialist publication Pharmacy Times has named Nature Made the No. 1 Pharmacist Recommended supplement.
Jeff Boutelle, CEO of Pharmavite commented, "We will continue our commitment to produce high-quality, science-based supplements in order to retain the trust of pharmacists who play an important role in helping consumers lead healthy lives, and thereby provide support people's health and well-being through Nature Made."


About Nature Made
1. Dedicated to supplements for 50 years in the U.S.
Since its launch in 1971, Nature Made has been supported by Pharmavite supplement-specific research and development and dedication to nutrition science.
2. Produced under rigorous quality standards
In the U.S., production of supplements is subject to current Good Manufacturing Practice (cGMP). Nature Made is produced at facilities that meet these rigorous quality standards as well as strict standards determined by Otsuka Pharmaceutical as a pharmaceuticals manufacturer.
3. Products designed for Japanese consumers
Maximizing Otsuka Pharmaceutical expertise in medical and health-related fields, Pharmavite designs high-quality Nature Made products marketed in Japan for Japanese consumers.
4. Contain no flavorings, colorings or preservatives
The Nature Made name is based on the conception of providing nutrition in as close as possible to natural form. Containing no flavorings, colorings or preservatives, Nature Made provides supplements that can be consumed with peace of mind.


2021 U.S. News & World Report - Pharmacy Times Survey
Nature Made is ranked as the #1 Pharmacist Recommended brand for: Sleep Aids,Diabetic Multivitamins,CoQ10,Flaxseed Oil,Herbal Supplement Brand,Essential Vitamins,Omega-3/Fish Oil,Cholesterol Management (Fish Oil),Mood Health (St. John's Wort)
Cumulative retail sales in supplement and vitamin category for the 52-week period ending 12/27/2020. ©2021,Information Resources Inc.
Intage SRI Multivitamin /Vitamin D markets: cumulative revenue share by brand for the 12-month period ending 12/2020.

Based on the corporate philosophy of 'Otsuka - people creating new products for better health worldwide,' Otsuka Pharmaceutical continues to contribute to the health and well being of people around the world.


【Nature Made 50th Anniversary website】 https://www.otsuka.co.jp/nmd/50th-anniversary/ (in Japanese)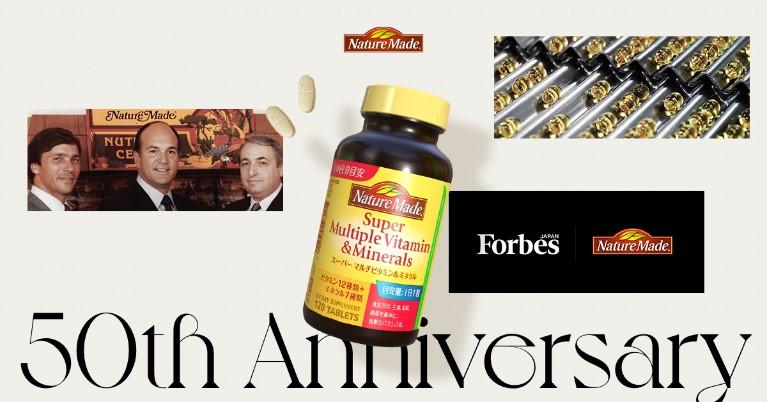 Latest Nutraceutical Business related News Releases