Otsuka Pharmaceutical Co., Ltd.
Nutraceuticals
March 1, 2023
New EQUELLE gelée , an Extension of the EQUELLE Brand
A convenient, smart solution for midlife transitions
Otsuka Pharmaceutical Co., Ltd. (Otsuka) has announced the April 3, 2023 launch of a new version of EQUELLE gelée, an extension of the EQUELLE brand of supplements supporting women's health and beauty. New reformulated EQUELLE gelée will be available from medical facilities, pharmacists, and selected e-commerce sites in Japan.

In addition to soy-derived equol, each pouch of refreshing orange-flavored EQUELLE gelée offers all-in-one health and beauty support with vital ingredients such as vitamin D, collagen, and calcium.
Originally launched as an extension of the EQUELLE brand of supplements containing equol produced from lactic acid-fermented soy, EQUELLE gelée is a delicious jelly-type beverage containing additional ingredients beneficial for women's health and beauty. Now reformulated with an increased amount of vitamin D, EQUELLE gelée is packaged in sleek white pouch, newly designed in line with the EQUELLE brand image.
A convenient smart routine that can be easily adopted during the midlife transition, EQUELLE gelée offers support for physical and emotional fluctuations, empowering women to live individually, comfortably and beautifully, day after day.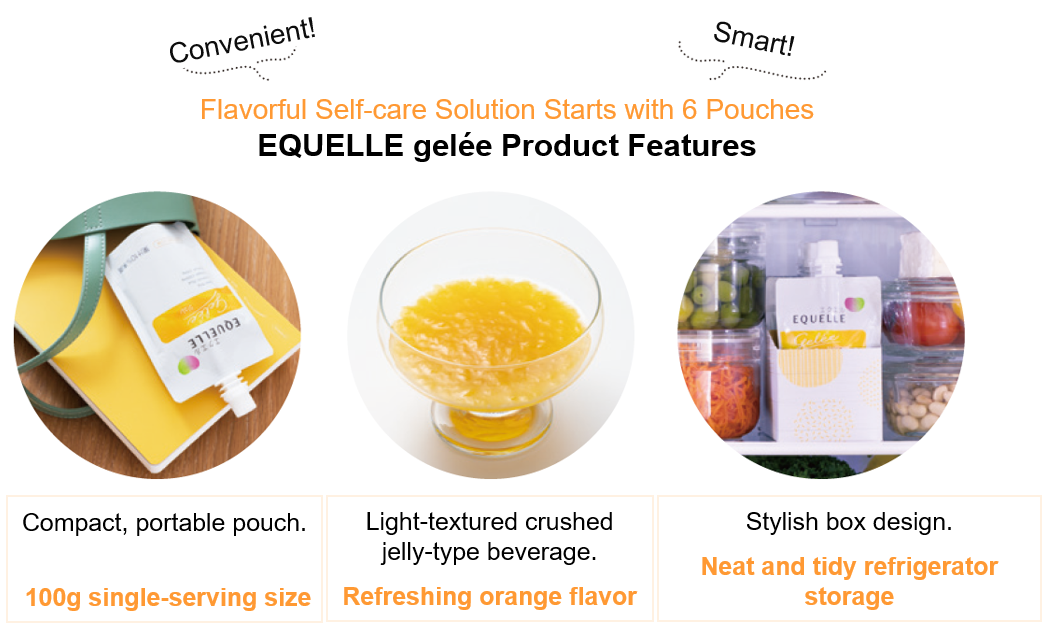 As brands that support women's health and beauty, EQUELLE and tocoelle are known as the "Elle" series, products that address health issues faced by women at various life stages. Beginning in 1996, Otsuka has been engaged in research focusing on the theme of women's health. Equol, a metabolite produced when soy isoflavones are fermented by intestinal bacteria, has been shown to make a significant contribution to health and beauty during life stage transitions. Following extensive research to confirm safety, EQUELLE (tablet type) was launched in 2014 as a supplement containing equol made from lactic acid bacteria-fermented soy. Offering a flavorful and convenient way to consume equol in a wide range of daily scenarios, EQUELLE gelée was launched in 2018. Launched in 2021, tocoelle provides gentle support for pre-menstrual fluctuations. Newly launched EQUELLE gelée is conceived to offer positive support, empowering women to live their best lives in the midst of life stage transitions.

Product Information
Product Nam

Nutrition (per 100g pouch)




Energy: 76kcal, protein: 3g, fat: 0g, carbohydrates: 17g, sodium chloride (salt) equivalent: 0.1g, calcium: 210mg, magnesium: 105mg, vitamin D: 20.0ug

S-equol: 5mg, soy isoflavones (aglycone): 3.2mg, collagen peptides: 2,500mg

Ingredients

Sugar (Japan-processed), blood orange juice, collagen peptides (gelatin), fermented soy germ, agar/acidulant, stabilizer (soybean polysaccharides CMC), fragrance, thickener (tara gum), antioxidant (vitamin C), artificial sweetener (sucralose), carotenoid pigment

Suggested retail price (pre-tax)

¥250 per pouch、 ¥1500 per 6-pouch box

Shelf-life

Product characteristics

・In addition to equol, this all-in-one jelly beverage contains vitamin D, collagen, calcium and other ingredients, especially beneficial for women, in a single pouch

・Light-textured crushed jelly-type beverage with refreshing orange flavor

・Convenient single-serving (100g) pouch

・Stylish 6-pouch box for neat and tidy refrigerator storage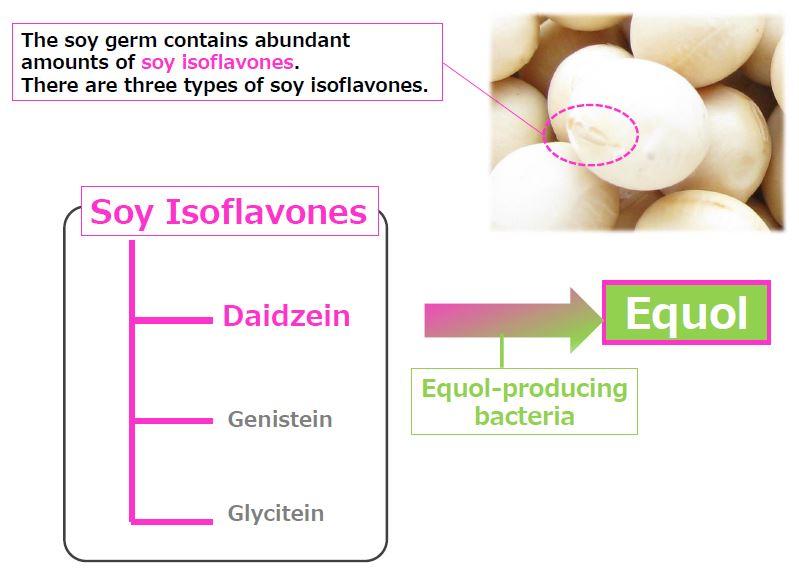 Equol is a metabolite produced from soybean isoflavone diadzen through the action of intestinal bacteria. Engaged in soy research over the years, Otsuka discovered that equol can contribute to women's health, benefits that have been clarified through ongoing research. However, only 50% of adult Japanese women are able to produce equol in their intestines, a figure that declines to 20% for younger women. Among American and European women, it has been reported that only 30% have the ability to produce equol*1. These statistics indicate that many women are not able to benefit from consumption of soy. Even among women who are able to produce equol, fluctuations in intestinal bacteria due to health status or stress may cause equol production to vary or cease. For ongoing maintenance and improvement of health, it is believed that daily consumption of equol is important for all women, both those who can and cannot produce equol.
*1

Journal of the Japan Society for Menopause and Women's Health, 20: 313-332, 2012

, 20: 313-332, 2012
Based on the corporate philosophy of 'Otsuka-people creating new products for better health worldwide,' Otsuka Pharmaceutical continues to contribute to the health and well being of people around the world.
Latest Nutraceutical Business related News Releases