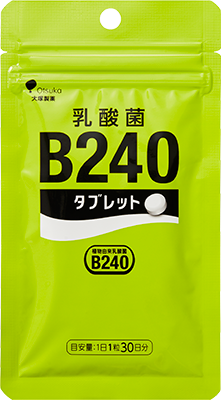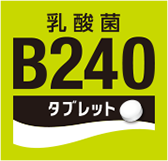 B240 Tablets
Supports maintenance of physical condition for those seeking to lead healthy lives
Contains 2 billion counts of proprietary Otsuka Pharmaceutical ingredient, lactic acid bacterium B240, to support maintenance of physical condition against various health risks. Lactic acid bacterium B240 is a plant-based strain developed as a result of extensive research into the digestive tract and lactic acid bacteria for which efficacy has been confirmed. The tablets support maintenance of optimum physical condition for those concerned with leading healthy lives.
Product Line-up
You can find detailed product information below.
B240 Tablets
Reliable protection with ongoing use.
Supports maintenance of optimum physical condition for those seeking to lead healthy lives.
An easy way to consume plant-based lactic acid bacterium B240 to support optimum physical condition.
One tablet contains 2 billion counts of lactic acid bacterium B240.
Recommended consumption is one tablet per day, making it easy to continue ongoing use.
Ingredients
Lactose (US-processed), corn starch, lactic acid bacteria/cellulose, calcium stearate
Content
6g (200mg×30 tablets)
Nutrition Facts
Per single (0.2g) tablet
Energy: 0.8kcal, protein: 0-0.05g, fat: 0-0.05g, Carbohydrates: 0.186g, sodium chloride (salt) equivalent: 0-0.005g
Lactic acid bacterium B240, 2 billion counts
All products mentioned are sold in Japan.