SOYJOY
SOYJOY is a nutritional food made with whole soybean flour, fruits and nuts, containing no wheat. They offer a smart and delicious way to enjoy the nutritional goodness of soy, including vegetable protein, soy isoflavones, and dietary fiber.
Made from whole soybeans
SOYJOY's major benefit is that is made from 100% soybean flour and contains no wheat. Since this flour is made from whole soybeans it gives you all the nutrition of soybeans including vegetable protein, soy isoflavones, and dietary fiber.
A low GI food
SOYJOY is a low GI food."GI" stands for "glycemic index." A measurement of how carbohydrates in foods affect blood sugar levels, a low GI indicates gradual absorption of carbohydrates, said to offer benefits for weight control. Foods with a GI of 55 or less are considered "low GI," and all SOYJOY products are recognized as low GI foods.
Product Line-up
You can find detailed product information below.
SOYJOY
Chewy texture makes SOYJOY satisfying, even in small amounts.
Containing generous amounts of fruits and nuts, SOYJOY makes the most of pleasing texture and flavor of the ingredients.
SOYJOY Crispy
SOYJOY Crispy brings you the light, crunchy texture of puffed soy.
With new flavors developed to complement the light texture, it's a totally different SOYJOY experience.
SOYJOY SCONE BAR
Made with whole soybean flour, this bar is baked with the moist texture of a scone.
Grains of coarsely ground soybeans enhance the mellow plain scone flavor.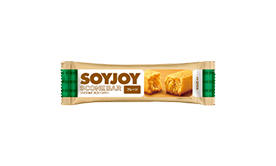 SOYJOY Scone Bar Plain
SOYJOY Scone Bar Plain
The fragrance of coarse-ground soybeans accents the mellow plain scone flavor.
Ingredients
Soybeans (Japan-processed, non genetically modified), margarine, eggs, powdered soy milk, sugar, almond powder, salt, modified starch, sorbitol, glycerol, leavening, fragrance
Nutrition Facts
Per bar (25g)
Energy:117kcal, protein:4.7g, fat:6.6g (saturated fatty acids:2g, trans fatty acids:0g), cholesterol:6-13mg, carbohydrates:10.9g (sugars:9.4g, dietary fiber:1.5g), sodium chloride (salt) equivalent:0.22g
Soy isoflavones:17mg
All products mentioned are sold in Japan.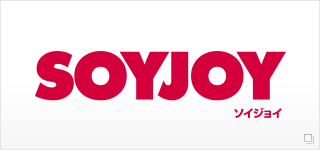 Product Site of SOYJOY (Japanese)
Introduction about SOYJOY's special ingredients and the health benefits of soy