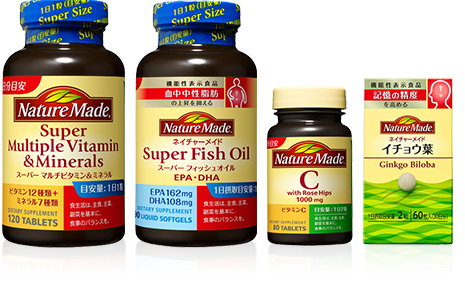 Nature Made
Made your Health Starts Here
Nature Made products contain no flavorings, colorings or preservatives. The Broad-line Series of Nature Made supplements is designed to give you exactly what you need. Additionally, the Super Series of supplements provide all the vitamins and minerals you need for an entire day in a single tablet. Match these products with your lifestyle to support all your health needs.
Product Line-up
You can find detailed product information below.
Basic Supplements
"Food with Function Claims" Supplements
Super Series
Vitamin Supplements
Mineral Supplements
Add-on Supplement
Herb Series (Nature's Resource)
All products mentioned are sold in Japan.
Caution:
Those with allergies should carefully read the list of ingredients before consuming this product. Consuming large amounts of this product will not improve illness or promote health. Do not exceed recommended daily intake. This product may not suit certain physical constitutions or conditions. In these cases, stop consumption immediately. Individuals taking medicine or receiving treatment at the hospital should consult with their physician before consuming.