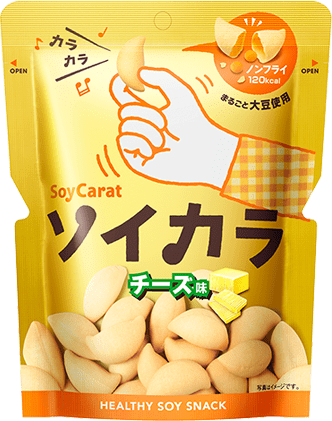 SoyCarat
The Healthy Soy Snack
SoyCarat is a soy snack with edible "beans" baked inside a puffed up "pod" of soy dough. On top of having a great appearance, flavor, aroma, and texture, it makes a fun rattling sound when shaken. Everyone from children to adults will enjoy the full sensory delight of SoyCarat.
SoyCarat is a snack food made mainly of whole soy.*
Each packet of SoyCarat is made with approximately 50 soybeans.
SoyCarat provides the nutrition of soy with the enjoyment of a fun rattling sound when shaken.
Calories have been kept down to approximately 120 kcal per bag as the snack is baked, not fried.
Product Line-up
You can find detailed product information below.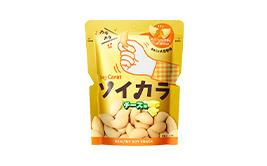 SoyCarat Cheese flavor
The mellow cheese flavor makes this soy snack popular with children and adults alike.
Ingredients
Soy flour (Japan-processed, non-genetically-modified), starch, powdered cheese, brewed seasonings, powdered sour cream extract, inulin, salt, powdered lemon balm extract/processed starch, fragrance, antioxidant (vitamin E, vitamin E), sweetener (stevia), paprika pigment
Nutrition Facts
Per packet (27g)
Energy:120kcal, protein:6.3g, fats:4.8g, carbohydrates:14.6 (sugars:11.6g, dietary fiber:3.0g), sodium chloride (salt) equivalent: 0.1-0.6mg
Soy isoflavones:25mg
All products mentioned are sold in Japan.