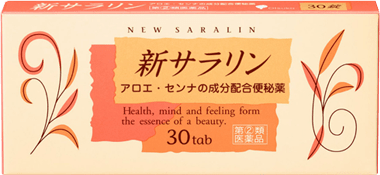 NEW SARALIN
A Laxative Containing Aloe and Senna
NEW SALARIN is a gentle laxative containing active ingredients found in two medicinal plants, aloe and senna. Provided in small easy-to-take tablets, it works overnight.
Product Line-up
You can find detailed product information below.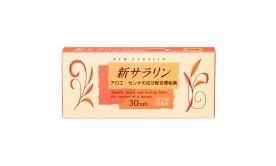 NEW SARALIN
A gentle laxative based on active ingredients from two medicinal plants, aloe and senna
Small easy-to-take tablets
Works overnight when taken before bed
Properties
Tablets coated with a thin orange film
Indications
For constipation and relief of symptoms associated with constipation: dull headache, hot flashes, skin rashes, pimples, loss of appetite, abdominal distension, abnormal intestinal gas, hemorrhoids
Instructions and directions for use

Once a day: 1 to 3 tablets for those aged 15 and older, or 1 to 2 tablets for those aged 11 to 14.
For the first time however, use the minimum dose, then gradually increase or decrease the dose while monitoring the condition of bowel movements.
Usage Guidelines

1

Use by those aged 11 to 14 must be under the guidance and supervision of their parents/guardians.

2

Take only as directed.

3

How to remove tablets from the packaging: Break the aluminum foil backing by firmly pressing on the plastic blister containing the tablet, and remove the tablet.
(Accidental swallowing of the packaging can lead to unexpected problems such as piercing of the esophageal mucosa.)

Active pharmaceutical ingredients (per 3 tablets)
Aloe extract: 190 mg (equivalent to 380 mg of aloe), Sennosides: 49.8 mg (21 mg of Sennosides A & B)
Additives
Cellulose, silica, magnesium stearate, hydroxypropyl methylcellulose, polyvinyl alcohol (partially saponified), titanium oxide, talc, soy lecithin, carnauba wax, Sunset Yellow FCF
Precautions
Important
(Ignoring these precautions may result in worsening of current symptoms and/or higher risk of side effects.)
While taking this drug, do not take any of the following pharmaceuticals: Other laxatives.
Do not take this drug if you are lactating, or avoid breastfeeding if you do take this medication.
Do not take more than the directed dose.
This drug is not for children under the age of 11.
Prior medical consultation
1

The following people should consult a doctor or pharmacist before taking this drug:

Those already under treatment by a physician
Those who are pregnant or might be pregnant
Those with a personal or family history of allergies
Those that have had allergic symptoms caused by drugs
Those with the following symptoms: Severe abdominal pain, nausea, vomiting

2

In the following cases, discontinue use immediately, and take the product and materials provided inside the packaging to a doctor or pharmacist for consultation.


1) In the event of the following symptoms after taking the drug:

| Affected site | Symptoms |
| --- | --- |
| Skin | Redness, rash, itching, swelling, dryness, or chapping |
| Digestive organ | Severe abdominal pain, diarrhea, vomiting, intestinal gurgling |

2) If the symptoms do not improve even after one week of use

3

The following side effects are possible. Discontinue use and consult a doctor or pharmacist if such symptoms persist or worsen.
Storage and Handling
Store in a cool dry place out of direct sunlight.
Keep out of reach of children
Do not transfer contents to a different container, as it may lead to mistaken use or quality deterioration
Do not use the product after the expiration date displayed on the container and the outer box
All products mentioned are sold in Japan.