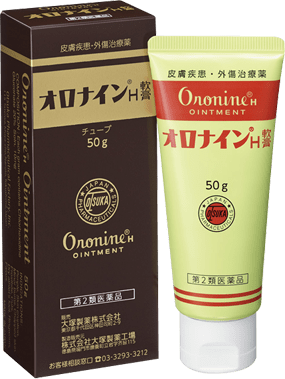 Oronine
Home Medicine Chest
Oronine products are formulated with chlorhexidine gluconate, which is an antiseptic. When treating cuts at home, it is important to use an antiseptic to kill bacteria. It is also effective to use anti-bacterial ointment to keep harmful bacteria away from the wound.
Product Line-up
You can find detailed product information below.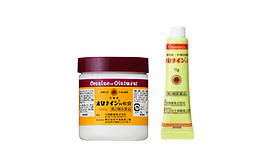 Oronine H Ointment
For Treating Skin Problems at Home
This ointment is for the treatment of skin ailments and injuries and is formulated with chlorhexidine gluconate, which has excellent antiseptic properties.
Product Features
Properties
White hydrophilic ointment
Indications
Acne, pimples, flaking of skin, light burns, chapped skin, chilblains, scratches, dry athlete's foot, jock itch, and scall
Instructions and directions for use

Apply to the affected area using absorbent cotton or gauze, or put on directly using a clean finger, depending on the condition of the area. Usage Guidelines

1

Any use by small children should be under the guidance and supervision of their parent/guardian.

2

Be careful not to get the product in your eyes. If this happens, immediately rinse with cold or lukewarm water.. If reaction is severe, seek medical attention from an ophthalmologist.

3

For external use only.

4

Remove dirt from in and around the affected area before applying.

Active ingredients
(per 1 g)

chlorhexidine gluconate solution(20%):10mg
Additives
Lauromacrogol, polysorbate 80, sulfuric acid (Al/K), macrogol, glycerin, olive oil, stearyl alcohol, white beeswax, petroleum jelly, self-emulsifying glyceryl stearate, fragrance, purified water
Precautions
Important
(Ignoring these precautions may result in worsening of current symptoms and/or higher risk of side effects.)
1

Oronine H Ointment should not be used in the following people:
People who have had an allergic symptom to this drug, its ingredients, or chlorhexidine.

2

Do not use Oronine H Ointment in the following instances.

1

On eczema (incl. sores and rash)

2

As a makeup use

3

On insect bites
Prior medical consultation
1

The following people must consult a doctor, pharmacist or registered salesclerk before using this product.

Those already under treatment by a physician
Those that have had allergic symptoms (for example, redness, rash, itching, etc.) caused by drugs and others.
Those with a large affected area
Those with sticky and sore skin
Those with a deep cut or severe burn

2

In the event of the following symptoms after using the product, discontinue use immediately, and take the product and materials provided inside the packaging to a doctor, pharmacist or registered salesclerk for consultation.


| Affected site | Symptoms |
| --- | --- |
| Skin | Redness, rash, itching, swelling, dryness, or chapping |

The following serious symptoms may occur in rare cases. In such cases, immediately seek medical aid.

| Affected site | Symptoms |
| --- | --- |
| Shock (Anaphylaxis) | Itching of skin, urticaria, hoarseness, sneezing, itchy throat, breathing difficulties, palpitations, and clouding of consciousness may occur immediately after use. |

3

If symptoms fail to improve after use for 5 or 6 days, discontinue the use of Oronine H Ointment and consult a physician, pharmacist, or registered salesperson. Bring this document with you for reference.
Precautions for Handling and Storage
Keep tightly sealed and store in a cool place away from direct sunlight.
Keep this product out of the reach of children.
To avoid misuse and to ensure quality, do not store Oronine H Ointment in other containers.
Do not use the product after the expiration date indicated on the package and the container.
Since bottle container is made of glass, do not subject the container to strong physical impact. It may damage the container, and injury may occur.
All products mentioned are sold in Japan.